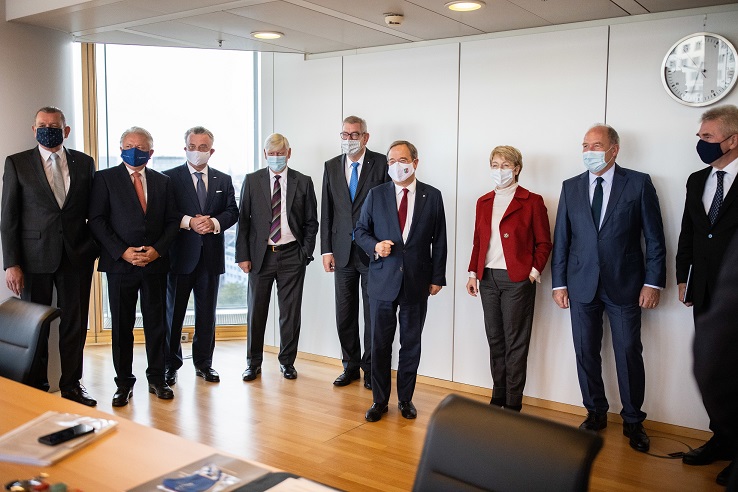 Top-level talks on hydrogen with Laschet in Düsseldorf. (picture alliance/dpa)
Industrial companies based in the western German state of North Rhine-Westphalia want to make progress in the use of the climate-friendly energy source hydrogen. On Monday a group of companies presented 13 projects to the state premier, Armin Laschet of the Christian Democrats (CDU), in which they are investing a total of four billion euros. The projects are steps towards a CO2-neutral industry that is targeted for 2050.
The initiative is intended as way of encouraging other companies to commit themselves to the topic of hydrogen. For example, ThyssenKrupp wants to use hydrogen to produce steel in a climate-friendly way, RWE is working on efficient hydrogen production and E.ON on the conversion of gas networks for transportation. Steel processor C.D. Wälzholz wants to use hydrogen to reduce its CO2 emissions in production.
Laschet emphasized the urgency of switching to climate-friendly processes so that the local industry can survive against its global competitors. He also said that jobs were at stake: "We will only maintain the high level of employment in the industrial state of North Rhine-Westphalia if we transform ourselves here and use the necessary technologies," the CDU politician said.

Notice: No person, organization and/or company shall disseminate or broadcast the above article on Xinhua Silk Road website without prior permission by Xinhua Silk Road.