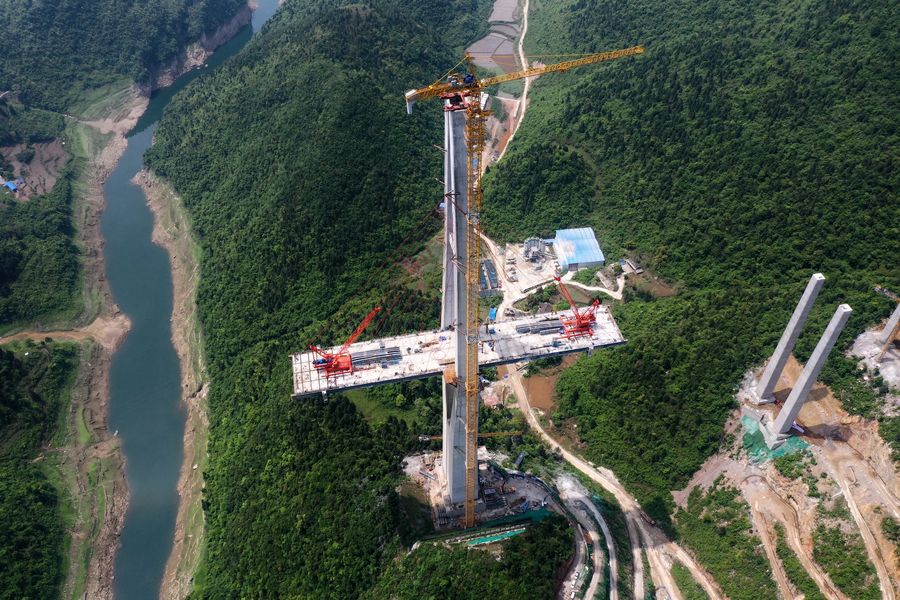 Aerial photo taken on April 26, 2020 shows the construction site of the Xiangjiang bridge in southwest China's Guizhou Province. (Xinhua/Liu Xu)
BEIJING, Oct. 13 (Xinhua) -- Multiple local investment projects in China have started construction in the fourth quarter, pulling demand for cement and other infrastructure raw materials, reported Shanghai Securities News Tuesday.
According to incomplete statistics, the latest development of more than 980 billion yuan worth of major projects involving railways, roads, subways and power were released in September this year.
Many regions in China have sped up efforts in project construction.
East China's Jiangxi Province Monday announced the second batch of provincial key construction projects in 2020, and the 64 projects total an investment of 175.3 billion yuan.
Chengdu, capital city of southwest China's Sichuan Province, has seen 497 major projects contracted and registered with a total investment of 867.1 billion yuan since the end of June this year, up 57.7 percent year on year, noted relevant official of the city at a project investment attraction exchange meeting held on October 9.
The 3.75 trillion yuan of local government special bonds and 600 billion yuan of central budgetary investment arranged by the central government of China will provide support for the project construction in the fourth quarter, said Yang Chang, chief analyst with Zhongtai Securities.
The intensive construction of major projects has pushed up demands for infrastructure raw materials.
Cement prices will keep rising driven by demands of enterprises intending to complete the annual construction target in the coming months, noted Huang Daoli, an analyst with Guosen Securities (002736.SZ). (Edited by Gu Shanshan with Xinhua Silk Road, gushanshan.1987@163.com)