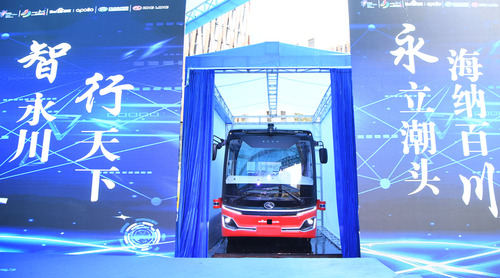 An L4 autonomous bus makes its debut during the launching ceremony in southwest China's Chongqing Municipality, Sept. 17, 2020. (Xinhua/Wang Quanchao)
BEIJING, Oct. 13 (Xinhua) – In response to the central government's call on developing new energy vehicle (NEV), southwest China's Chongqing has seized opportunities for the development of NEV industry, reported Chongqing Daily Monday.
In promoting technological innovation and R & D, Chongqing will provide financial support of no more than 30 million yuan per year for new energy vehicle manufacturing innovation.
Chongqing will grant subsidies of 20 percent of the investment to related industrial projects with an investment of more than 5 million yuan, and no more than 5 million yuan for individual projects, to support the integration of NEV with industries such as energy and transportation.
Meanwhile, the city will strengthen construction of infrastructure such as recharging and hydrogenation, and give financial support to the construction of charging piles as public facilities.
According to the measures, Chongqing vows to set up 30,000 new charging piles for NEV in 2020, including 10,000 quick-filling piles.
The city is set to provide appropriate incentives and security policies, such as financial rewards for ride-hailing, taxis, and administrative vehicles.
For example, auto companies selling NEV for car-hailing at reduced prices will be rewarded with 30 percent from the selling price. At the same time, enterprises that adopt new business models such as "vehicle and electricity separation" will be rewarded with battery leasing for three consecutive years.
The city will promote NEV use for both administrative cars and buses and set up impressive charging piles for buses in prominent public areas, including bus stops and parking lots along the streets.
(Edited by Jiang Feifan with Xinhua Silk Road, 346129473@qq.com)