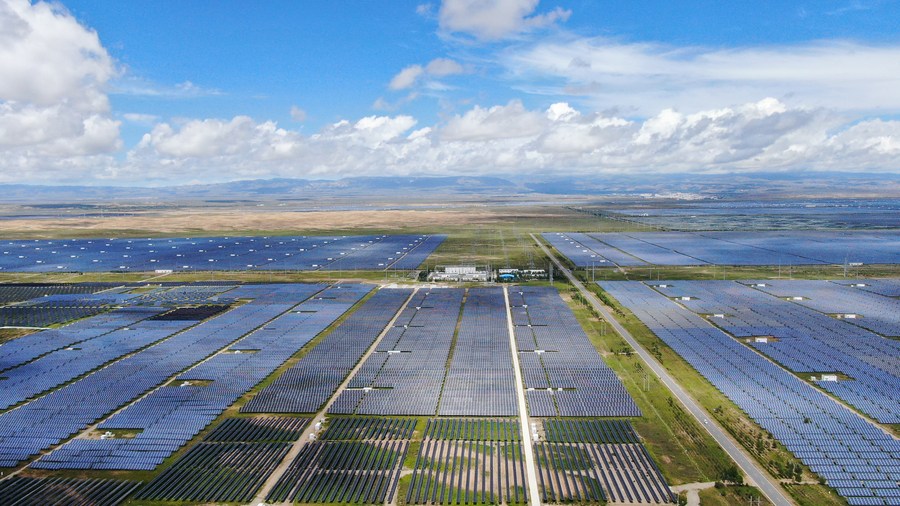 Aerial photo taken on Aug. 17, 2020 shows a photovoltaic power station at a green industrial development park in the Tibetan Autonomous Prefecture of Hainan, northwest China's Qinghai Province. (Xinhua/Zhang Long)
BEIJING, March 16 (Xinhua) -- China on Tuesday unveiled a slew of measures for industrial upgrades and green growth in 2021, according to the Ministry of Industry and Information Technology.
The country will accelerate applications of big data and other digitalized methods in its demand-side management of electricity and other utility consumption to improve energy efficiency, the ministry said.
Carbon emissions will be cut in vital sectors, the ministry said. It added that companies in the industrial sector would be encouraged to beef up efforts in retrofitting electrical equipment and informatization.
A batch of specialized outlets providing demand-side electricity management services for industrial businesses will be cultivated, according to the ministry.
China emphasizes energy conservation management in key energy consumption enterprises and systematic optimization of energy in the Outline of the 14th Five-Year Plan (2021-2025) for National Economic and Social Development and the Long-Range Objectives Through the Year 2035. It was adopted at the annual session of China's top legislature last week.