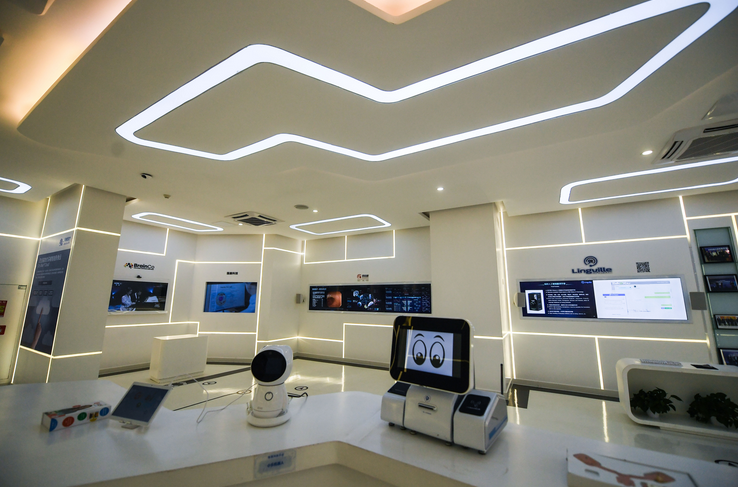 Creative products of technology firms are displayed at an exhibition center of China Artificial Intelligence Town in Hangzhou, capital of east China's Zhejiang Province, June 6, 2019.
BEIJING, March 16 (Xinhua) -- As China steps up efforts to propel digital development, emerging digital formats such as artificial intelligence (AI), big data, blockchain and cloud computing are likely to usher in a new round of investment, reported the Xinhua-run Economic Information Daily on Tuesday.
From 2020 to 2025, the total investment value in 5G network, AI, industrial Internet, Internet of Things (IoT), data center, cloud computing and other key fields of digital economy is projected to reach about 17.5 trillion yuan, with an average annual growth rate of 21.6 percent, according to forecast made by a research group of the National Development and Reform Commission.
China highly values digital development, and aims to raise the proportion of the added value of core industries of digital economy in GDP from 7.8 percent in 2020 to 10 percent in 2025, according to the Outline of the 14th Five-Year Plan (2021-2025) for National Economic and Social Development and the Long-Range Objectives Through the Year 2035.
This year's government work report also proposed to push forward the development of digital economy and build a digital China. A series of policies related to digital economy are expected to be introduced.
The scale of China's digital economy was 35.8 trillion yuan in 2019, accounting for 36.2 percent of the total GDP, showed data from the Ministry of Industry and Information Technology.
China Academy of Information and Communications Technology predicted that the country's digital economy will hit about 60 trillion yuan by 2025, accounting for more than 50 percent of GDP. (Edited by Su Dan with Xinhua Silk Road, sudan@xinhua.org)