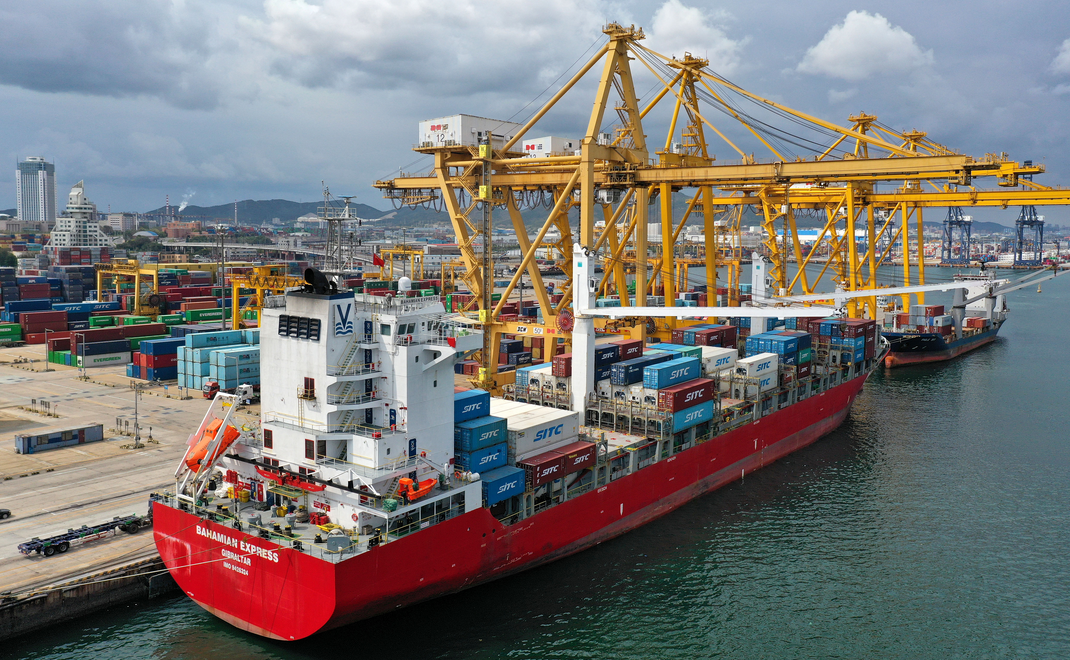 Aerial photo taken on Sept. 24, 2020 shows a cargo ship loaded with containers at Dalian portin northeast China's Liaoning Province. (Xinhua/Yao Jianfeng)
BEIJING, March 16 (Xinhua) -- Northeast China's Liaoning Province is expected to see its foreign trade grow 5 percent in 2021 with positive growth in exports, according to Department of Commerce of Liaoning Province, Chinanews.com reported on Monday.
Besides cultivating and expanding local foreign trade enterprises, Liaoning plans to explore new ways to introduce foreign trade investment and enterprises to settle in the province. It is necessary to establish a support mechanism for key enterprises including BMW Brilliance in Shenyang and Intel in Dalian. In 2021, there will be more than 450 new import and export enterprises with actual achievements throughout the year.
Liaoning plans to vigorously develop re-export trade by giving full play to its location and port resource advantages, especially the Dalian Shipping Center. Liaoning will also strengthen the functions of comprehensive bonded areas in Dalian, Shenyang, Yingkou and other cities, support key logistics enterprises and vigorously develop re-export trade to Japan, South Korea, Southeast Asia, and Central Asia with focus on commodities such as coal, crude oil, iron ore, automobiles, and consumer goods.
At the same time, relying on the overseas offices and enterprises of the province, Liaoning will further explore markets in RCEP countries and the European Union, continue to consolidate the US market, and actively tap into emerging markets such as Russia, Central Asia, and Central and Eastern Europe.
In addition, Liaoning will give full play to the role of Shenyang, Dalian and other 5 cross-border e-commerce comprehensive pilot zones and the Dandong border trade zone, speed up the construction of the port customs clearance system and optimize the cargo clearance process.
(Edited by Gao Jingyan with Xinhua Silk Road, gaojingyan@xinhua.org)