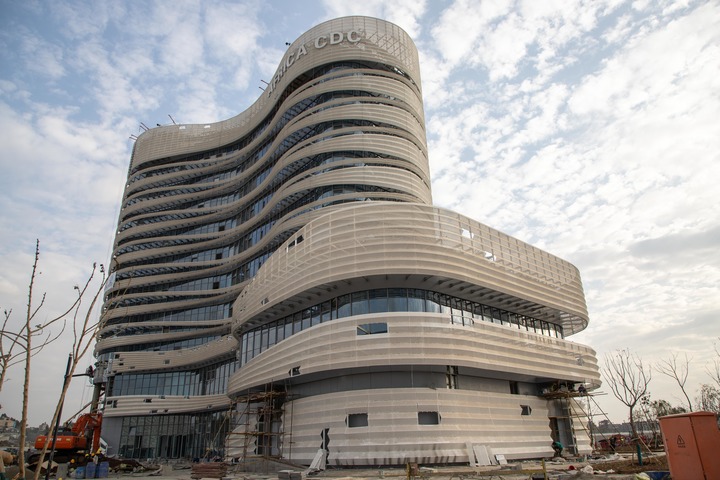 Photo taken on Dec. 23, 2022 shows the headquarters of the Africa Centers for Disease Control and Prevention (Africa CDC) under construction in Addis Ababa, Ethiopia. (Xinhua/Michael Tewelde)
BEIJING, March 17 (Xinhua) – The 3rd China-Africa Economic and Trade Expo (CAETE) will take place in Changsha, capital of central China's Hunan Province from June 29 to July 2 this year, announced the organizer at a forum held on Thursday.
Thanks to the joint efforts of China and Africa, the expo has been successfully held for two sessions with fruitful results, Li Fei, Vice Minister of Commerce spoke at the 3rd CAETE and the Pilot Zone for In-depth China-Africa Economic and Trade Cooperation Promotion held In Beijing on Thursday.
Li added that delegates engaged in different sectors in China and Africa are welcome to participate in the third CAETE and continue to pay attention to the construction of the pilot zone, making positive contributions to promoting high-quality development of China-Africa economic and trade cooperation and building a high-level China-Africa community with a shared future.
Zhou Haibing, Vice Governor of Hunan Provincial People's Government, said that Hunan will deeply integrate into the joint construciton of the Belt and Road, expand economic and trade cooperation with Africa, and strive to create a experimental field of China-Africa economic and trade cooperation mechanism.
The CAETE expo has pushed China-Africa economic and trade cooperation to a new stage, injecting great strength in promoting South-South cooperation and boosting global economic development, according to Wu Peng, head of the Department of African Affairs of China's Ministry of Foreign Affairs.
Martin Mpana, the Ambassador of Cameroon to China made remarks during the meeting, noting that by strengthening training for its enterprises, Cameroon can help more local small and medium-sized enterprises to conduct trade with China and share the opportunities of Chinese market.
With the theme of Common Development for A Shared Future, the third China-Africa Economic and Trade Expo will host about 30 supporting activities in five categories, including major events, high-end forums, business negotiations, and symposiums. (Edited by Jiang Feifan with Xinhua Silk Road, 346128473@qq.com)