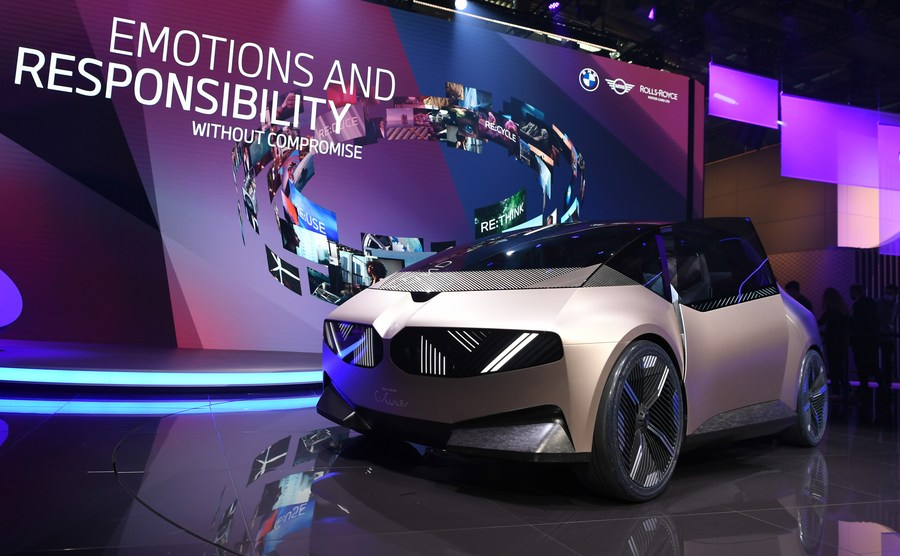 A BMW i Vision Circular concept car is on display during the motor show IAA Mobility in Munich, Germany, on Sept. 6, 2021. (Xinhua/Lu Yang)
BERLIN, Aug. 3 (Xinhua) -- BMW's net profit in the first half (H1) of this year soared by 73.6 percent year-on-year to a record 13.2 billion euros (13.5 billion U.S. dollars), the German carmaker said on Wednesday.
The full consolidation of BMW's joint venture (JV) with Brilliance China Automotive Holdings Ltd. has had a positive one-time effect of around 7.7 billion euros, according to the company.
Back in February, the German carmaker increased its stake in BMW Brilliance Automotive Ltd. (BBA) from 50 to 75 percent.
The revaluation of the previously held equity interests in BBA was a "major driver" of the company's financial result in the first six months of the year, said Chief Financial Officer Nicolas Peter.
Revenues in H1 rose by 19.1 percent year-on-year to 65.9 billion euros. The consolidation of BBA also had a positive effect on this development. According to BMW, the new Chinese subsidiary contributed around 11 billion euros in revenues.
At the same time, unit sales declined to 1.16 million vehicles, down by 13.4 percent compared to the record level of the prior-year period. Production and deliveries were impacted by "ongoing semiconductor supply issues and supply chain disruptions," the carmaker said.
Due to the sales slump in the first six months, BMW has lowered its expectations for full year deliveries and its CEO Oliver Zipse has warned of an "increasing economic headwind coming up in addition to the ongoing supply shortages."
However, BMW confirmed its financial outlook for fiscal 2022, expecting "significantly higher Group pre-tax earnings" than last year due to the full consolidation of BBA.
"Especially under unfavorable conditions, the BMW Group is characterized by a high degree of resilience," Zipse said. (1 euro = 1.02 U.S. dollars)