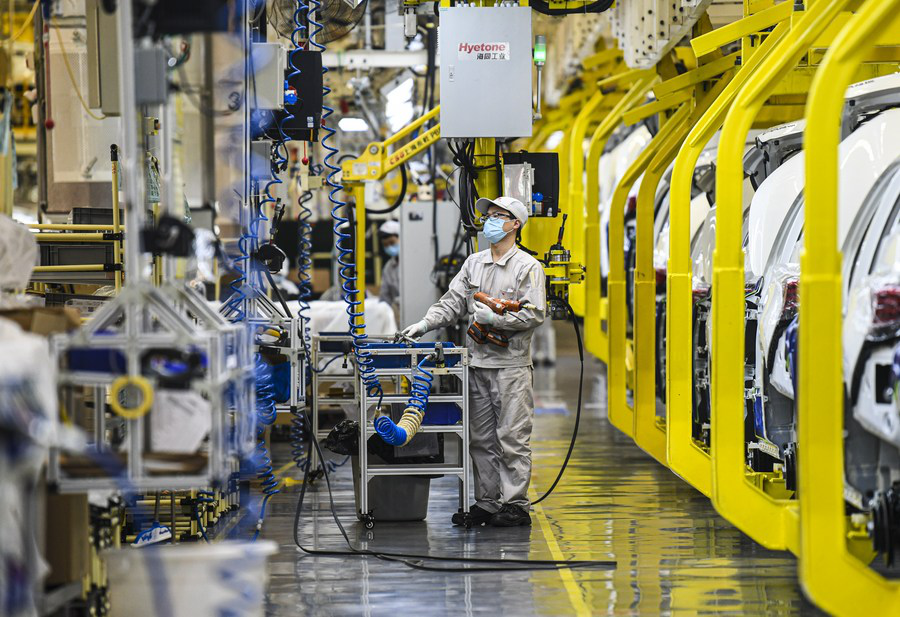 Workers are busy at the Xinjiang car plant of GAC Motor in Urumqi, northwest China's Xinjiang Uygur Autonomous Region, Sept. 24, 2020. (Xinhua/Wang Fei)
BEIJING, June 29 (Xinhua) -- Guangzhou Automobile Group Co., Ltd. (GAC Group, 601238.SH), a Chinese state-owned automobile manufacturer, unveiled R&D achievements ready for mass production on its technology day this year, reported China Securities Journal on Tuesday.
The company accomplished many achievements in the fields of intelligent network connectivity, pure electricity, and hybrid technology and launched the new hydrogen concept car SPACE.
For instance, it introduced the Pusai OS under GAC Starling Architecture and the newly upgraded intelligent driving ecosystem ADiGO.
In addition, GAC unveiled a new generation of super-energy lithium-iron battery technology named SmLFP with its breakthrough composite battery technology based on micro-crystalline technology.
The event also saw the launch of the Vantage Wave Hybrid modular architecture, which can be applicable to all XEV models such as HEV, PHEV, and REEV.
(Edited by Dai Jingjing with Xinhua Silk Road, aime_jenny@163.com)