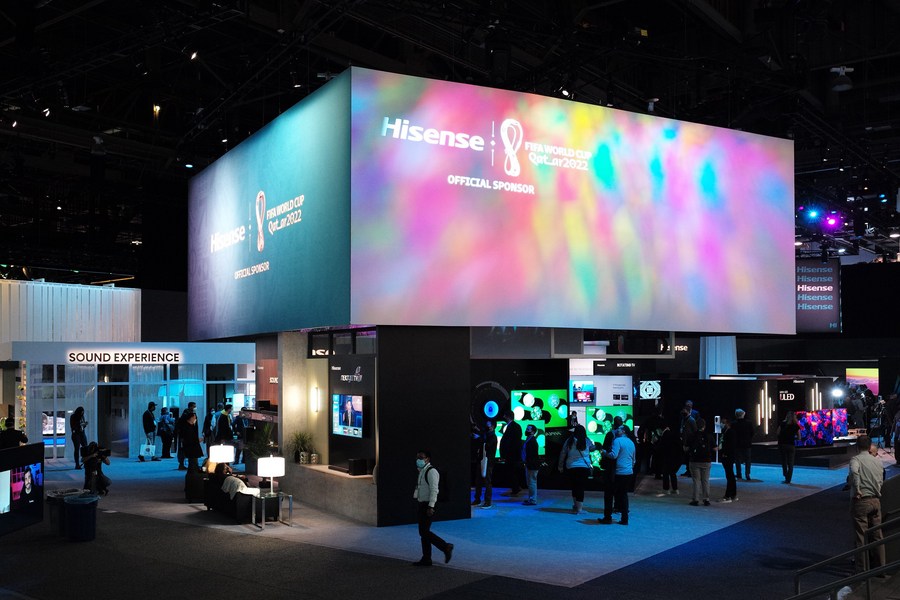 Visitors tour the Hisense exhibition area at the 2022 Consumer Electronics Show (CES) in Las Vegas, the United States, Jan. 5, 2022. (Xinhua/Wu Xiaoling)

BEIJING, June 27 (Xinhua) -- The overseas revenue of the Chinese consumer electronics and appliance manufacturer Hisense is expected to reach 150 billion yuan in 2025 as the group has been accelerating the pace of going global and establishing closer economic and trade relations with countries involving in the Belt and Road Initiative (BRI), according to Jia Shaoqian, president of Hisense.

The group's overseas revenue in 2021 reached 72.5 billion yuan, accounting for 41.3 percent of its total income, Jia said at the Belt and Road Enterprises Fair for Trade and Investment held recently during the Third Qingdao Multinationals Summit.

Since the start of this year, Hisense has shown strong resilience in face of many adverse factors such as the still raging Covid-19 epidemic, shrinking demand in overseas markets and tight global supply chains. The group's revenue from January to May reached 73.1 billion yuan, showing an increase of 16 percent year on year, with the net profit up 43 percent year on year, according to Jia.

He added that last month, Hisense's self-developed color ultrasound products entered Indonesia, the United Arab Emirates and other Belt and Road countries.

In addition to household appliances, Hisense's products and services related to commercial display, intelligent transportation and precision medicine also ride BRI wave to overseas markets.

At present, the group has 12 research and development centers, 18 industrial parks, 55 companies and offices overseas. (Edited by Su Dan with Xinhua Silk Road, sudan@xinhua.org)