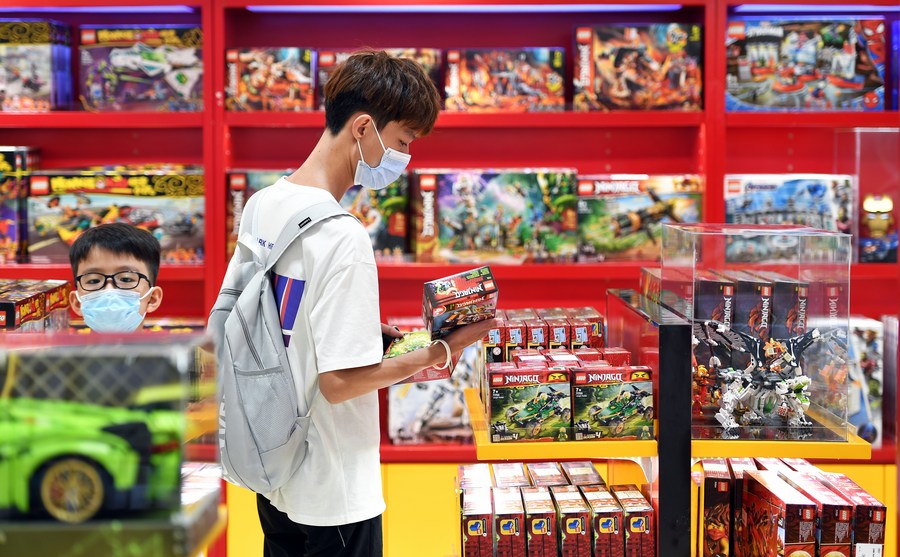 Customers choose products at a duty-free shopping mall in Haikou, south China's Hainan Province, July 2, 2021. (Xinhua/Guo Cheng)
BEIJING, Aug. 12 (Xinhua) -- Major economic indicators showed that China saw accelerated economic recovery with positive growth momentum in the first half of 2021.
In the second half, China will continue boosting domestic demand and moving faster to invest in key projects and sectors to provide sustained support for the sound and stable economic development.

-- Stable performance in H1
In the first six months, China's economy continued to recover steadily with positive growth momentum. According to data from the National Bureau of Statistics (NBS), the country's gross domestic product (GDP) expanded 12.7 percent year on year to 53.21 trillion yuan in the first half, with domestic demand contributing 80.9 percent to economic growth.
The economic structure was improved. In the first six months, the added value of the service sector contributed 53 percent to economic growth, up 2.1 percentage points over the first quarter. During the same period, the added value of the manufacturing sector accounted for 27.9 percent of the national GDP, up 1.3 percentage points compared to the same period of 2020.
Meanwhile, innovation-related sectors kept injecting impetus into the national economy. During the January-June period, the added value of high-tech manufacturing above designated size increased by a two-year average rate of 13.2 percent. Viewing from product end, the output of new energy vehicles, industrial robots and integrated circuits all maintained a rapid year-on-year growth.

Major projects were orderly implemented, also becoming an engine driving China's economy.
For example, in January, China's first nuclear power unit using Hualong One, a domestically designed third-generation reactor, entered commercial operation, paving the way for mass construction and export.
In June, Deep Sea No.1, China's first self-operated 1,500-meter deep-water gas field, started production. Production at the gas field is significant to ensuring national energy security, optimizing the country's energy structure and promoting regional economic development, according to the China National Offshore Oil Corporation.
Also in June, the first two generating units of the Baihetan hydropower station, the world's largest hydropower station under construction, was put into operation, marking a major step in China's utilization of clean energy.
Driven by major projects, investment mounted up. In the first half of the year, China's fixed asset investment rose 12.6 percent year on year, and the investment in high-tech sector increased by 23.5 percent year on year.
As a major component of domestic demand, consumption also embarked on a track of recovery. In the first six months, China's retail sales of consumer goods rose 23 percent year on year to 21.2 trillion yuan, with final consumption expenditure contributing 61.7 percent to economic growth. During the period, sales of vehicles, home appliances and other commodities rebounded, and online shopping continued booming.
Offshore duty-free sales in Hainan amounted to 30.26 billion yuan in the first half, up 2.2 times year on year, driving growth in Hainan's total retail sales of consumer goods by 23.5 percentage points.
According to the latest research report released by the global consultancy firm McKinsey, Hainan's duty-free market is expected to increase by ten folds during the 2020-2025 period, thus becoming one of the world's largest travel and retail market.
-- Increasing appeal to foreign investment
Senior executives of multinational companies pointed out that the promising Chinese market is attracting them to make investment in the country.
In Baoshan District of Shanghai, a hydrogen plant with high-purity hydrogen production capacity of 6,000 standard cubic meters per hour is under construction. The plant boasting advanced hydrogen purification technology and integrated solution provided by the U.S. industrial conglomerate Honeywell for Shanghai Baoqing Gases Industrial Co., Ltd. is scheduled to begin operation in 2022.
China has seen a number of benchmark foreign-invested projects kick off construction, including the hydrogen fuel cell project in Guangzhou invested by Hyundai Motor from the Republic of Korea, the hydrogen power system project in Chongqing by Bosch from Germany, the biopharmaceutical project in Hangzhou by Thermo Fisher Scientific from the U.S., and the Legoland theme park in Shanghai by Lego from Denmark.
Data from the Ministry of Commerce showed that the number of big foreign investment projects with contract value over 100 million U.S. dollars in China increased 81.3 percent year on year to reach 602, up 76 percent compared with the same period in 2019.
Yang Xu, president of Intel China, said that China is a huge market for multinational companies. Over the past four decades of reform and opening-up, China has built sound infrastructure, created complete industrial chains and nurtured a large number of skilled industrial talents. The government vigorously supports innovation, and consumers highly welcome new technologies, products and services. These factors have all enhanced multinational companies' confidence of expanding business in the country.
The rising demand in the Chinese market has galvanized the business in the Asia Pacific of the Air Liquide, one of the world's largest suppliers of gases and services for industry and healthcare sector, said Nicolas Poirot, president and CEO of the Air Liquide China.
-- More stimulus in H2
Factors favorable to further economic recovery and growth in China are seen to be on the rise.
In the second half, China will continue expanding domestic demand. To achieve this purpose, Chinese authorities including the National Development and Reform Commission, the Ministry of Finance, the Ministry of Commerce, and the Ministry of Industry and Information Technology, have introduced a series of pro-demand policies and measures.
China will work to unleash potential of new modes of consumption and rural consumption, in part by encouraging the digital and intelligent transformation of traditional businesses, and supporting the development of ultra high definition video terminals, virtual reality and augmented reality equipment, wearable devices, and other electronic products that fueling consumption upgrading.
The country will keep facilitating implementation of more major projects, especially those promoting coordinated development among regions, those related to new infrastructure and new urbanization initiatives and those in areas of transportation, energy and water conservancy.
The Chinese economy is expected to steadily rebound in the second half of the year whether looking from supply-demand circulation, market confidence, and domestic demand growth, said Liu Aihua, spokesperson of the NBS. (Edited by Su Dan with Xinhua Silk Road, sudan@xinhua.org)