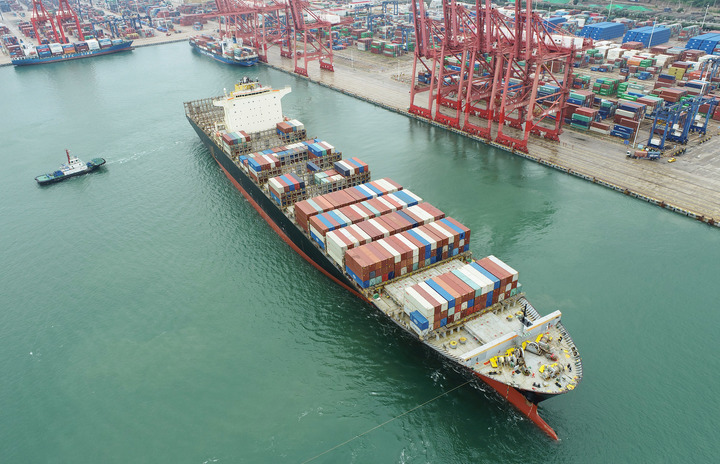 A loaded ship leaves a container terminal in Lianyungang, east China's Jiangsu Province, July 13, 2021. (Photo by Wang Jianmin/Xinhua)
BEIJING, Aug. 5 (Xinhua) – East China's Jiangsu Pilot Free Trade Zone (FTZ) has grown into an important engine for high-quality development in Jiangsu since its inauguration in 2019 , reported the Xinhua-run Xinhua Finance Wednesday.
In the past two years, Jiangsu FTZ has contributed 12.7 percent to the province's foreign trade volume, and its actual use of foreign investment accounted for 9.7 percent of the province's total in the period, which is an important driving force for the high-quality development of Jiangsu Province.
In response to the central government's call for a new development pattern and coordinated development of the FTZ, Jiangsu has made efforts to promote a higher level of opening-up and explore institutional innovations, and it has created 115 institutional demonstration innovations, according to the relevant department of the FTZ.
This year, the Jiangsu FTZ vows to promote institutional innovation in the biomedical sector and is expected to develop biomedical, integrated circuit, and artificial intelligence (AI) into pillar industries in the province.
The three sub-areas of the Jiangsu FTZ in Nanjing, Suzhou, and Lianyungang have also achieved fruitful results. It is noted that the Suzhou area was approved as a new type of national offshore international trade area in March this year, which is the second approved area in China after Hainan Free Trade Port.
In terms of developing emerging industry, efforts will be made to promote offshore trade, digital trade, trade-in service, and promote the green and low-carbon transformation of the Jiangsu FTZ.
The FTZ will also prioritize building strategic science and technology areas, including state-level research centers, laboratories, and scientific research infrastructure, and introduce more innovative talents to the FTZ.
(Edited by Jiang Feifan with Xinhua Silk Road, 346129473@qq.com)