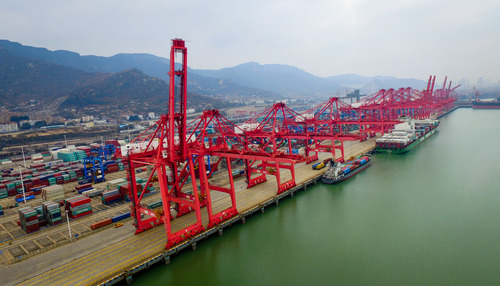 Aerial photo taken on Nov. 29, 2016 shows a view of Lianyungang Port in Lianyungang City, east China's Jiangsu Province. (Xinhua/Li Xiang)
BEIJING, July 12 (Xinhua) – Local authorities in Nanjing, capital of east China's Jiangsu Province recently issued interim rules on piloting programs for Qualified Domestic Limited Partner (QFLP) in the Nanjing area of the Jiangsu Pilot Free Trade Zone (FTP), aiming to promote financial innovation and introduce more international capital to the FTZ, reported new.qq.com Saturday.
The interim rules specify qualifications, scope, application procedure and management mechanism of the QFLP pilot investors.
The scope of the pilot QFLP programs includes the Nanjing area of the Jiangsu FTZ, and other related innovation development zones, and the relevant pilot fund management enterprises and pilot fund registration locations shall be in the Nanjing area of the FTZ.
The qualified applicant of QFLP covers a wide range of domestic, wholly foreign-owned or Sino-foreign joint venture fund management companies that have been registered as private equity fund manager with Asset Management Association of China (AMAC), as well as eligible newly established private equity management and venture capital fund management companies.
Meanwhile, domestic, foreign-owned or Sino-foreign joint venture fund management enterprises participating in the QFLP pilot are eligible to initiate private equity and venture capital funds, while overseas institutions that meet the conditions for applying for QFLP pilot programs will be authorized to invest their own or offshore RMB for investment.
The interim rules also highlight the quota limit of QFLP pilot fund that the sum of the foreign exchange capital raised by each individual fund of the QFLP pilot fund shall not exceed the total scale of overseas fund raised by the approved pilot fund management enterprises.
While creating a convenient investment environment for overseas fund, the QFLP pilot program is also expected to attract more overseas equity management institutions and overseas industrial capital for Nanjing.
(Edited by Jiang Feifan with Xinhua Silk Road, 346129473@qq.com)