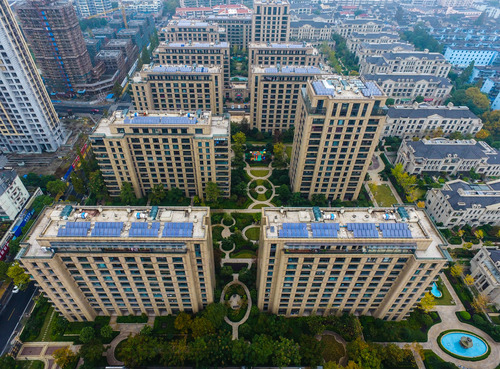 Photo taken on Nov. 14, 2017 shows the rooftop photovoltaic power system on residential buildings in Cixi City, east China's Zhejiang Province. (Xinhua/Xu Yu)
BEIJING, June 10 (Xinhua) -- The PV industry is about to usher in smart production era with the world's first G12 silicon chip smart factory expected to reach its design capacity of 25GW this June, according to Tianjin Zhonghuan Semiconductor Co., Ltd. (Zhonghuan) at the recent Photovoltaic Intelligence Conference held in China's port city Tianjin.
China's PV industry has basically completed the transition from manual to intelligent production, operation and maintenance, and the come of PV's intelligent era instills new impetus to the fulfillment of peaking carbon emissions and carbon neutrality, said Jin Lei, a division head with the Electronic Information Department under the Ministry of Industry and Information Technology (MIIT), at the conference.
Industry insiders believe that the PV industry will accelerate growth and become more intelligent with the deep integration of IT and advanced manufacturing, while also note that the industry is still faced with various challenges.
-- The smart era
China's PV industry has undergone fast development in recent years. Data by China Photovoltaic Industry Association showed that the newly-installed PV capacity reached 48.2GW in 2020, ranking the first in the world for eight consecutive years, with total installed capacity topping the world for six consecutive years.
"With the integration of the PV industry with emerging technologies such as 5G communication, AI, industrial Internet and big data, the era of smart energy has arrived," said Jin Lei.
In 2018, the MIIT and other five ministries jointly published the Action Plan for the Development of Smart Photovoltaic Industry, guiding the intelligent transformation of the entire PV industry. Over the last three years, the PV industry has been improving its level of intelligence.
Taking industry leader Zhonghuan as an example,the company established an Industry 3.0 factory in Wuxi back in 2016 to realize the integration of logistics automation and operation informatization. Its Tianjin Huanzhi G12 Factory was put into operation in 2020, becoming the world's first smart factory manufacturing G12 silicon chips.
"The smart factory boasts the capacity of big data, cloud computing and intelligent analysis and decision-making," said Wei Chen, deputy general manager of Zhonghuan's new energy chip business unit, introducing that this makes per capita productivity increases threefold, and the annual output value per capita has reached 10 million yuan.
Liao Shuyang, chief architect of the U.S. Applied Materials, echoed that the G12 silicon chip production conforms to modern requirements of unmanned factories, with the built-in equipment sensors, automatic control of machines, unmanned handling, and intelligent dispatching, it formed a new-type intelligent automation factory with "senses" capability.
The PV industrial chain is becoming more smart as well. In areas of PV power station, digitalization took the route of hardware to data, and then entered the full life-cycle 3.0 stage where more application scenes of the full life-cycle flexible design software are provided together with shorter design cycle, according to Zhang Yanhu, head of Sungrow Renewables Development Co., Ltd., giving the example that it takes only 20 minutes to design one 200MW power station, but more power can be generated.
-- The carbon mission
China's plan to peak carbon dioxide emissions before 2030 and achieve carbon neutrality before 2060 has endowed the PV industry new historical mission, according to Shen Haoping, general manager of Zhonghuan.
As stated by Zhao Ying, vice chairman of China Renewable Energy Society and director of China Photovoltaic Society, currently about 60 percent national power generation comes from coal, which is planned to be lowered to 10 percent by 2060, freeing up huge space to be filled by photoelectric and wind power.
China could establish comprehensive energy parks, towns and cities for realizing its carbon target, suggested Chen Zhilei, assistant director of New Energy Institute of China Electric Power Research Institute, noting that various energy utilization can be intelligently controlled and the intelligent function can be maximized through IT application.
In reality, intelligent PV application has been gradually incorporated into daily life. On May 18, for instance, the Sino-Singapore Tianjin Eco-City Real Estate Registration Service Center, the first building with zero energy consumption in Tianjin, generated over 1,200 kWh of power, used over 500 kWh, stored over 100 kWh, and sold over 600 kWh to the power grid, according to Yu Bo, project manager of State Grid (Tianjin) Comprehensive Energy Service Co., Ltd. This means it is generating more power than demand, Yu said.
-- The multiple challenges
The PV industry is an emerging industry based on semiconductor technology and new energy demand.
Li Dongsheng, chairman of TCL, who participated in the mixed-ownership reform of Zhonghuan, believes that after completing mixed-ownership reform, Zhonghuan will strengthen its advantages in monocrystalline silicon and chips, enhance industrial chain building, and strengthen global operation, to become a leading force of the PV industry globally and also a leader in the semiconductor silicon chip industry domestically.
However, difficulties and problems will continue to arise, said industry experts, noting that challenges in areas such as information security, talent shortages as well as slow adaptation to the new digital scenario could still limit the industry's development in one way or other.
Enterprises shall develop sound information security systems to make the information systems more stable and secure, suggested Gao Runfei, digital director of Zhonghuan crystallian business unit.
As for talents, the intelligence era involves technologies such as cloud, big data, and the Internet of Things, and talent competition and cultivation will be a priority for enterprises. However, the talent shortage cannot be solved within a short period, and the problem will be worse in the era of intelligence, which will ultimately impact the transformation of enterprises, according to Xu Wentian, general manager of IBM Greater China Consulting Service.
Also, many experts noted smart factory is not simply about the intelligent and digitalized production environment. It should be a redefinition of corporate structure which could be a new challenge for the entire industry.
(Edited by Niu Huizhe with Xinhua Silk Road, niuhuizhe@xinhua.org)