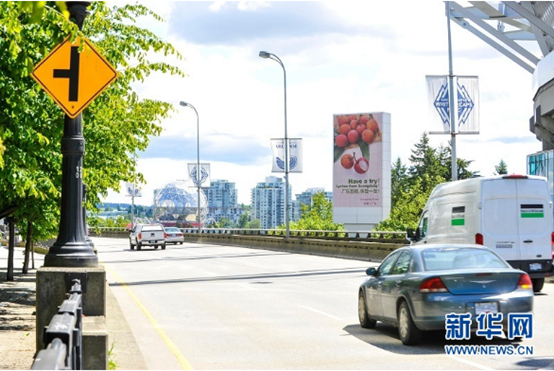 A billboard advertising Guangdong lychees is seen in Vancouver, Canada. (Xinhuanet.com)
GUANGZHOU, May 21 (Xinhuanet) -- A Chinese brand named "Guangdong Lychee" made its debut Thursday on billboards in ten major cities around the world, including Vancouver, Dubai, Seoul, Tokyo, and Kuala Lumpur.
The billboards promoted lychees from south China's Guangdong Province, inviting people worldwide to have a try.
The "Guangdong Lychee" is known for its sweet, crisp and juicy taste, and takes up more than half of the country's lychee production.
In recent years, Guangdong Province has grown this local specialty into an industry. Logistics networks have been upgraded to transport fresh lychees to consumers faster.
With the billboard promotion, the Chinese brand is seeking a stronger global presence.