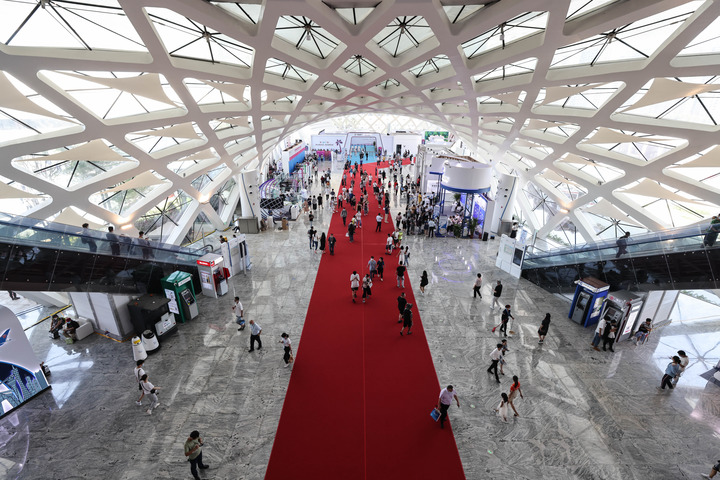 People visit the first China International Consumer Products Expo in Haikou, capital of south China's Hainan Province, May 10, 2021.
BEIJING, May 13 (Xinhua) -- The first China International Consumer Products Expo (CICPE) was concluded on May 10. The event was not only a showcase of global consumer products and the new opportunities in Chinese market, but also a booster for building Hainan into an international tourism consumption center and a window to the great potential of Hainan Free Trade Port (FTP).
-- Trade results out of expectation
"I run a fashion brand. I planned to bring it to the Expo but I was too late to have a booth. I had to come as a professional visitor. The new products are in my car. The first Expo was a big hit," said Ouyang Yongyue, president of a trading company in Guangzhou, south China's Guangdong Province.
"Compared with those to other expos, clients came prepared for business talks in CICPE. The result was out of expectation." Jiang Zhongjie, chairman of Loveonly Group said he thought it would be an exhibition. To his surprise, he saw a dozen of high-quality diamond orders everyday , a three-carat diamond was sold, and larger orders are being made.
The Expo turned to be a gala for local purchase groups, professional visitors and common consumers who came for business or to shop. According to official statistics, the number of visitors totaled 240,000 including 30,000 buyers and professional visitors.
It was learnt that, during the Expo, the exhibitors received and reached various cooperation intent with huge numbers of buyers and professional visitors from both home and abroad. For example, Edrington concluded an order of intent worth 100 million yuan. Hanse Yachts Group sold two yachts at over 5 million yuan and 7 million yuan. From May 7 to May 9, Hainan Pavilion welcomed 20,000 visitors and reported intended trade value of 103.1 million yuan and contract value of 1.5355 billion yuan.
"China as a large market of 1.4 billion people is the largest consumer market in the world," said Song Houchi, managing director of Edrington Shanghai Ltd., "Its potential is so huge that you can't find a rival on the planet. The Expo is an occasion to release such potential."
Han Shengjian, director of the Hainan International Economic Development Bureau, said at the closing ceremony press conference that, as China's first state-level exposition themed fine consumer products, the Expo together with Canton Fair, China International Fair for Trade in Services (CIFTIS) and China International Import Expo (CIIE) are the state-level "expo matrix" to share development opportunities with the world and important public service platforms for China's opening-up.
-- Solid booster for building int'l tourism consumption center
Han added that, according to preliminary statistics, over 80 percent of the corporate exhibitors, including L'Oréal, Shiseido, Tapestry, De Beers, Chow Tai Fook, Chou Sang Sang, KPMG, Ernst & Young and Chambers Ireland, expressed intent to participate in the next session. Provincial exhibitors are also interested in the second session to be held next year. It is estimated booths would be undersupply in the second Expo.
"Trade results tell the truth. We're happy with the Expo. We're very optimistic about the 'global trade' opportunities in Hainan FTP. We're planning to access to Hainan duty-free shops." said Jiang.
"We got a lot from the first Expo. In the next step, we'll soon make surveys in Hainan cities and open stores as soon as possible. In addition, we'll increase investment in Hainan, hoping to double our business in Hainan in the years to come," said Zhou Guanghua, vice president for China of international luxury group Tapestry, Coach's parent company.
The Expo is one of Hainan's approaches to building the province into an international tourism consumption center. Chen Xi, director of the provincial department of commerce noted that, besides serving as a platform for the competition and communication between Chinese and international fine consumer products businesses, the Expo will be a strong booster for the growth and upgrading of catering, accommodation, transport and tourism industries, and will stimulate consumers' demands.
Data indicated consumers' demand is increasingly expanding in Hainan. Last year, the province's total retail sales of consumer goods went up by 1.2 percent, 5.1 percentage points higher than the national average. In the first quarter of this year, the growth rate jumped to 61.6 percent, and doubled in fields of automobile and off-island duty-free articles.
-- Potential "meeting point" of dual circulation
Hainan is designing a project to build a global fine consumer product center, which will provide home and abroad consumer product brands with regular exhibition and trade platforms.
Many international exhibitors were actually surprised by the Expo's success, said Han. The exhibitors believed the Expo is a two-way portal. On one hand, through the FTP and the platform, foreign consumer products are brought to the Chinese market supported by 1.4 billion people. On the other hand, Chinese consumer products are introduced to the world via the FTP which is a vehicle for the free and orderly flow of factor resource.
According to Chen Wenling, chief economist of China Center for International Economic Exchanges (CCIEE), when Hainan launches independent customs operations in 2025, the FTP is expected to become a paradise of duty-free shops, tourism retail industry, a world center for trade, consumer products and duty-free commodities.
Zhang Yansheng, chief researcher of CCIEE, holds that to build a world-level port, Hainan should ensure, first, its position as the pioneer of China's opening-up; second, world-class opening of the service industry; third, adoption of international high standards for system, regulations and management rules; and fourth, innovative opening, i.e. opening to technologies, talents throughout the world. (Edited by Yang Yifan with Xinhua Silk Road, yangyifan@xinhua.org)