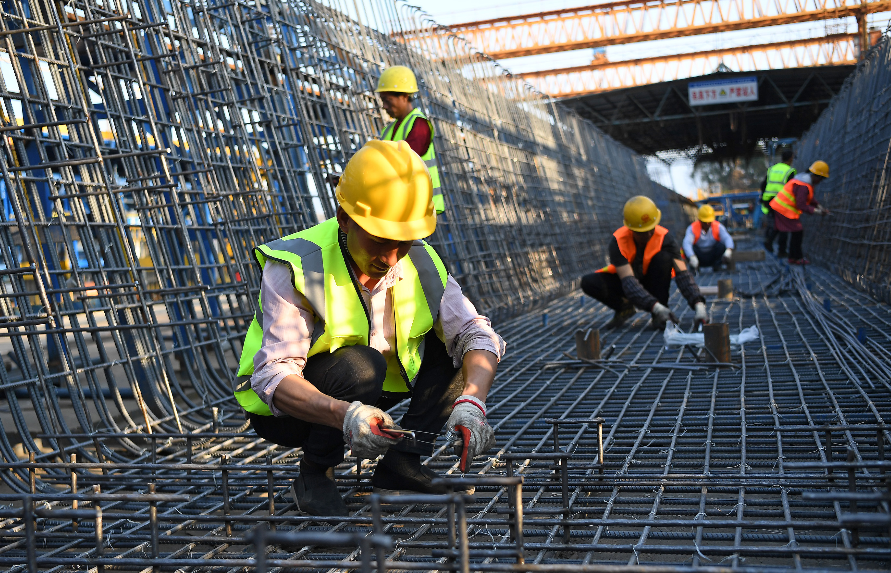 Workers work at the construction site of the Jiangxi section of the Anqing-Jiujiang high-speed railway in east China's Jiangxi Province, Feb. 20, 2021. The Jiangxi section of the Anqing-Jiujiang high-speed railway resumed construction recently. (Xinhua/Wan Xiang)
BEIJING, Feb. 23 (Xinhua) -- Steel prices in China are expected to rise further on increasing demand from downstream sectors, the Shanghai Securities News reported on Tuesday.
Industry analysts pointed out that some steel mills have been in the red since mid-January 2021. As steel stocks are mainly concentrated in the hands of the steel mills and contractors, they are willing to raise the steel prices on the gradual pickup in demand. Given the current circumstances, there is still room for increases in steel prices in the near future.
"Recently, the prices of steel products have risen rapidly, and some steel traders have been reluctant to sell them," a staff member of the lgmi.com, a steel information provider in China.
According to Mysteel.com, also a commodity information platform, in the week after the Spring Festival holiday from February 11 to 17, steel products have generally increased by 150-300 yuan per metric ton (tonne).
Statistics of the lgmi.com showed that the average price of the grade-3 rebar (25mm) in the top ten major cities in China on February 22 stood at 4,606 yuan/tonne, an increase of 75 yuan/tonne from the previous day. It rose 286 yuan/tonne in just four days, representing an increase of 6.62 percent, hitting a new high for the same period in the past 10 years.
Due to the stay-up policy for Spring Festival holiday and the warmer weather, construction on many projects have started earlier than before, which has generated the downstream demand.
It is learned that a number of key projects in Xiongan New Area in north China's Hebei Province and the Yangtze River Delta have been announced for construction.
On Monday, the most active construction steel rebar contract for May 2021 delivery was up 50 yuan to close at 4,582 yuan/tonne. The most active May 2021 contract for hot rolled coils, mainly used in cars and appliances, was up 126 yuan to close at 4,822 yuan/tonne. (Edited by Hu Pingchao with Xinhua Silk Road, hupingchao@xinhua.org)