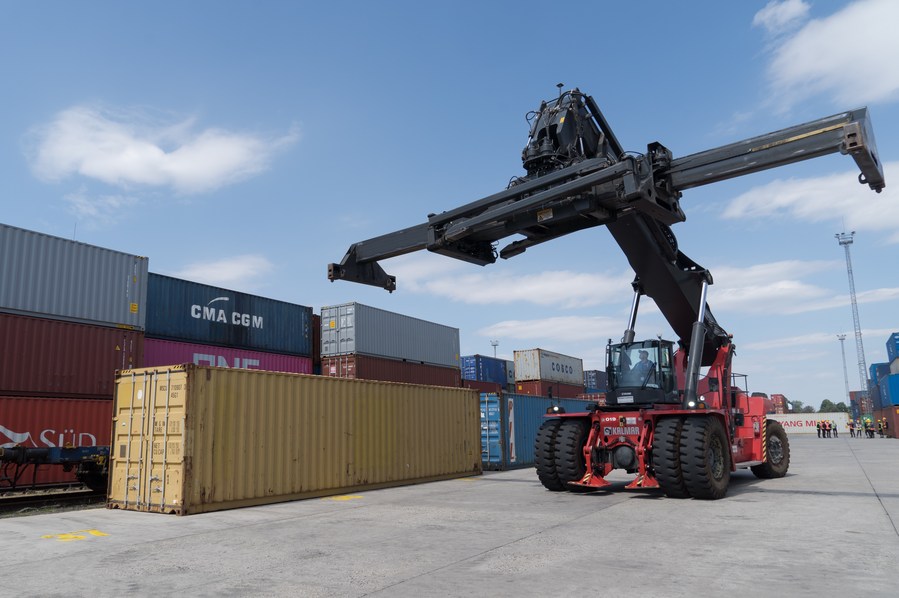 A worker prepares to unload cargo containers from the China-Europe freight train at the BILK logistics center in Budapest, Hungary, on April 27, 2020. (Photo by Attila Volgyi/Xinhua)
BEIJING, Feb. 20 (Xinhua) -- Trade between China and Hungary reached 11.69 billion U.S. dollars in 2020, registering a record high increase of 14.4 percent on year, with China for the first time standing out as Hungary's largest source of foreign investment.
Against the backdrop of a sluggish global market hit hard by the pandemic, such achievement drew wide attention with a "dual-zone" model acclaimed for making major contribution.
-- Inland cities opened up
A China-Europe freight train loaded with furniture, auto parts and daily necessities departed from Ganzhou international land port in Jiangxi Province for Hungary and other countries on January 28.
Hu Daofeng, head of Jiangxi Dashijie Furniture Co., Ltd., has benefited a lot and made five cargo shipments this year via such route. "In the past, we had to make export declaration in Shenzhen, but now, we can do so right on our doorstep and ship our products overseas directly from Ganzhou through China-Europe freight train services", he said.
Good news keep coming.
China (Ganzhou) Cross-border E-commerce Comprehensive Pilot Zone announced it would sign "dual-zone" cooperation agreement with Hungary Central European Trade and Logistics Cooperation Zone (CECZ). Under the deal, a total of 1,000 cargo trains will be deployed on the Ganzhou-Budapest route carrying 88,000 TEU containers over the next three years.
"As a major center for wood furniture manufacturing, Ganzhou, an inland city, has been facing difficulties in getting wood materials in and transporting furniture products out," said Luo Yongfeng, director of Ganzhou international land port administration committee. Under the "dual-zone" model, China-Europe e-commerce cargo trains will run between Ganzhou and Budapest together with the construction of digital ports and digital parks for cross-border e-commerce so as to jointly build an international furniture industry base and turn the inland area into an opening-up frontier.
Located in Hungary, CECZ provides full-chain and customized services such as overseas e-commerce, international logistics warehousing and storage, international certification and international marketing services which could help Chinese enterprises quickly get access to the Central and Eastern European markets.
CECZ and China (Linyi) Cross-border E-commerce Comprehensive Pilot Zone piloted the "dual-zone" cooperation last September which added 4.32 million euros of foreign trade for pilot enterprises in east China's Shandong Province.
Under the new agreement, the "dual-zone" model is expected to help Ganzhou achieve an incremental foreign trade of 5 billion yuan in 2021.
-- More value added
At 2020 China Brand Online Fair (Central and Eastern Europe), exhibitors from the Central and Eastern Europe showed great interest in the wicker furniture and handicrafts produced in Linyi city of east China's Shandong as they not only satisfy the increasing green demand in Europe, but also feature distinctive Chinese characteristics.
Seeking the opportunity, CECZ has assisted the "Linshu Willow Craft" to be sold on the largest e-commerce platform in Hungary, and created offline experience center to hold series of offline exhibitions and sales area.
Meanwhile, CECZ organizes local European designers, handicraftsmen and Chinese manufacturers to jointly research and develop the featured products suitable for the culture and customs in the Central and Eastern Europe.
Such "supporting services" are at the core of the "dual zone" model, which also create more added value to traditional international trade.
Under the "dual-zone" model, the domestic and foreign trade parks form inter-dependence through active cooperation, unblocking the whole import and export chain and integrating resources and advantages, thus forms "dual drivers" and the a "1+1>2" effect, according to Liu Bo, economic and commerce counselor of the Chinese Embassy in Hungary.
One of the major benefits from "dual-zone" model is convenience, according to Demini, a Hungarian businessman who has been engaged in the Europe-China trade for years. "Last year, both the frequency of China-Europe freight trains and the number of overseas warehouses increased dramatically, and the after-sales service became more convenient," he said.
Statistics show that the "dual-zone" model helps save more than 50 percent of transport time, cut about 33 percent of logistical cost and over 10 percent of warehousing expense for export traders.
It is noted that CECZ has integrated 53 types of products lines owned by 45 enterprises from seven Central and Eastern European countries and mulled initiating cooperation with sales agency in various comprehensive pilot zones to introduce such products to Chinese market.
-- Cross-border e-commerce development boosted
Logistics is the key to "dual-zone" model. The logistics system and overseas warehouses of diversified forms and types are critical to the success of such mechanism.
On January 26, Henan Air Cargo Development Co., Ltd. and CECZ inked deal on China-Hungary air freight hub construction project, under which the two parties would join hands with Budapest Airport to build overseas cargo terminal.
Zhengzhou Airport will carry out all-round strategic cooperation with CECZ to build an overseas cargo terminal at Budapest, which will accommodate regular flights between Zhengzhou and Budapest. Domestically Zhengzhou Airport serves as the aggregation and distribution hub while Budapest serves as the counterpart in Europe. The regular flights could provide one-stop service to clients, which will contribute to the cross-border cargo flow between China and Europe, according to the agreement.
The partnership between Zhengzhou Airport and CECZ will build a new "air silk road" and achieve swift cargo aggregation and distribution in the Central and Eastern Europe, and even the entire European continent.
In 2021, China and Hungary will further improve the efficiency of freight trains and the "air silk road", launching new service routes such as Ganzhou-Budapest and Linyi-Budapest, and provide even better supporting services through "dual-zone" model.
Laszlo Mosoczi, Secretary of State for Transport Policy at Hungarian Ministry of Innovation and Technology showed his confidence in the "dual-zone" model, commenting the model as new channel, new domain, and new attempt for strengthening infrastructure connectivity and deepening cooperation under the Belt and Road Initiative. It will advance the all-round cooperation on cross-border e-commerce, and propel closer collaboration between the two countries in commerce, trade, logistics, science and technology, among others, he noted.
(Edited by Niu Huizhe with Xinhua Silk Road, niuhuizhe@xinhua.org)