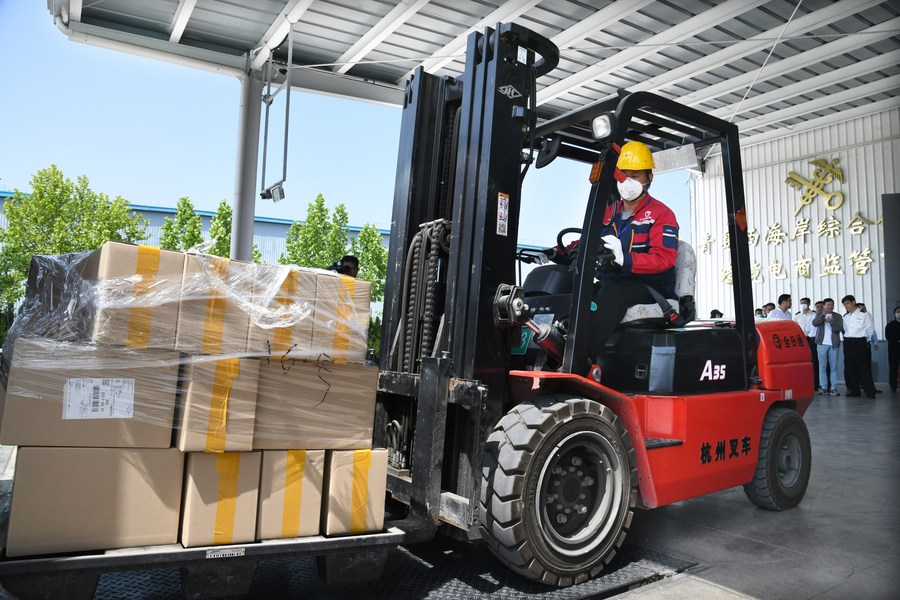 Commodities from the Republic of Korea are transported to a warehouse under full-time tracking at a cross-border e-commerce supervision center in Qingdao, east China's Shandong Province, June 3, 2020. (Xinhua/Li Ziheng)
BEIJING, Jan. 5 (Xinhua) -- China's cross-border e-commerce is growing rapidly and the import and export lists checked and released through the customs cross-border e-commerce management platform in 2020 registered 2.45 billion, surging by 63.3 percent year on year, reported Economic Information Daily Tuesday quoting the General Administration of Customs (GAC) of China.
According to an official from GAC, in order to ensure fast customs clearance for cross-border e-commerce entry and exit during the New Year promotion period, GAC started to make related layouts in early October 2020, visiting some e-commerce platforms and enterprises to know their promotion plans, formulating targeted work plans and enhancing technological and model innovation.
To support the demand for large-volume shipments during the year-end and new-year peak season, Hangzhou Customs has strengthened coordination and communication with airport supervision and operation sites in advance, set up special storage areas and warehouse entry channels for cross-border e-commerce goods, and timely mastered logistics status by connecting with airlines and logistics enterprises ahead of schedule, noted the official.
Shanghai, Nanjing and the Pearl River Delta region are also actively working out special measures to improve customs clearance efficiency for cross-border e-commerce goods, added the official.
(Edited by Gu Shanshan with Xinhua Silk Road, gushanshan.1987@163.com)