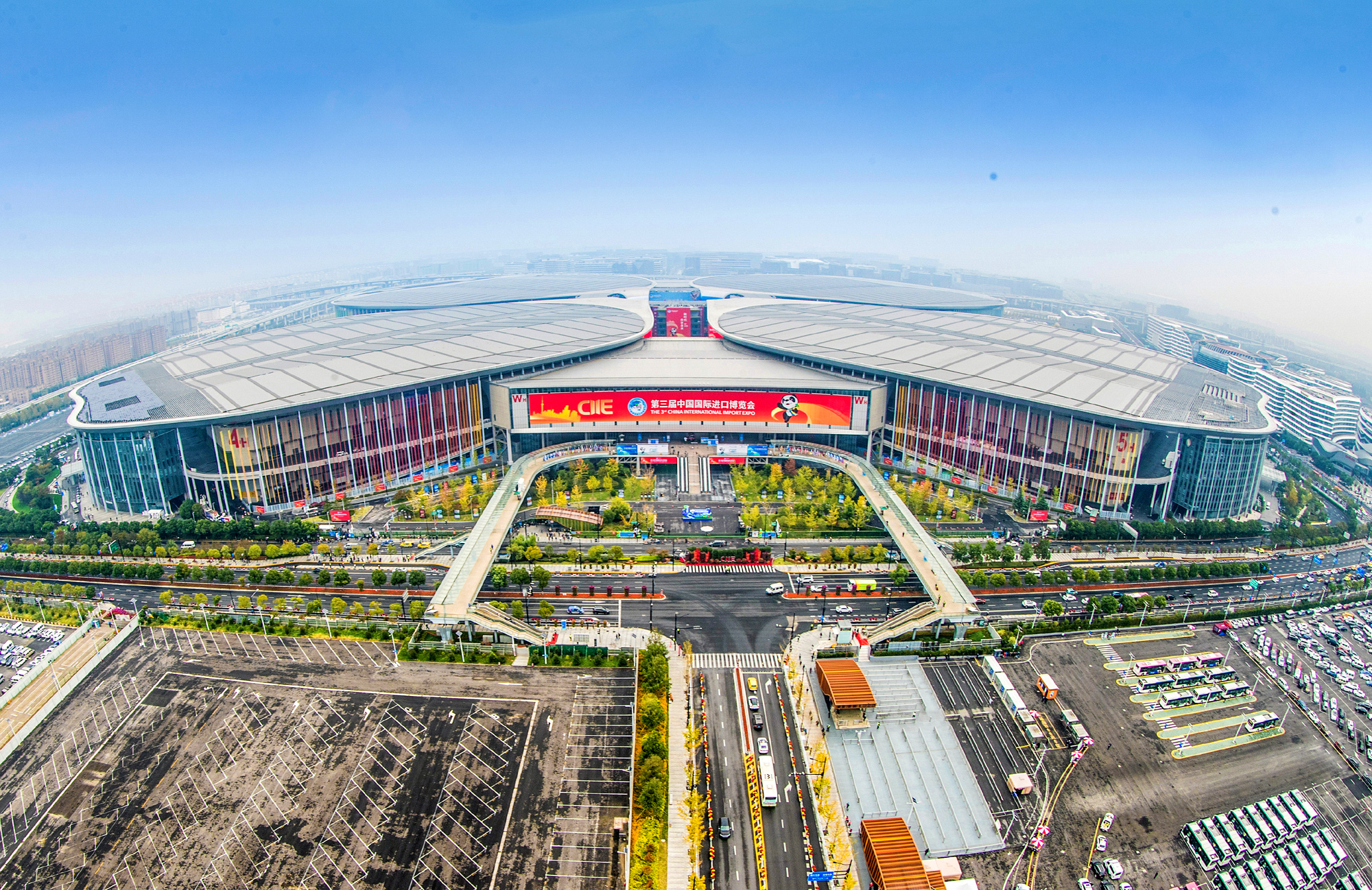 Aerial photo taken on Nov. 3, 2020 shows a view of the National Exhibition and Convention Center (Shanghai), the main venue of the 3rd China International Import Expo (CIIE), in east China's Shanghai. (Photo by Wu Kai/Xinhua)
BEIJING, Dec. 25 (Xinhua) -- Despite the pandemic, China is still attractive to foreign investment with its improved business environment, reported Xinhua-run Economic Information Daily on Friday.
Foreign direct investment (FDI) into the Chinese mainland, in actual use, expanded 5.5 percent year on year to 98.7 billion yuan (about 14.38 billion U.S. dollars) in November, the eighth consecutive month that the country has witnessed FDI growth, official data showed.
The actualized use of foreign investment in the country rose 6.3 percent year on year to 899.3 billion yuan in the January-November period.
The efforts to improve business environment have made China a magnet for foreign investment, said Sang Baichuan, a professor at the University of International Business and Economics.
On the first day of 2020, the Foreign Investment Law took effect to better protect foreign investors' interests. In order to step up implementation, the State Council recently announced to amend 22 administrative regulations and abolish one, which are incompatible with the Foreign Investment Law.
China has also honored the commitment to ease market access. In June, it unveiled the shortened negative list for foreign investment in the country and its free trade pilot zones, opening wider in the service industry, manufacturing and agriculture. Earlier this month, the country removed further items from its negative list for market access.
More measures to improve business environment are still on the way. The Ministry of Commerce (MOC) and China Banking and Insurance Regulatory Commission (CBIRC) have recently rolled out a circular to ramp up support for key foreign enterprises in China. In addition, the National Development and Reform Commission (NDRC) and the MOC jointly released rules concerning the security review mechanism on foreign investment in an effort to make the review process more standardized, targeted and transparent.
Looking ahead, Sang added that China would unswervingly follow the path of expanding opening-up. Chinese government will raise the transparency of its decision-making process to ensure a robust level playing field. The country will also pace up in the field of intellectual property protection to fuel innovation-driven development.
(Edited by Li Shimeng with Xinhua Silk Road, lishimeng@xinhua.org)