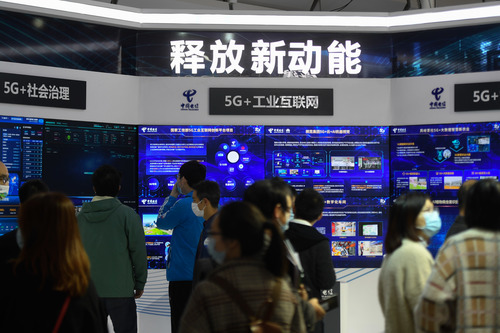 Photo: People learn about 5G technology at the booth of China Telecom during the Light of Internet Expo of the 2020 World Internet Conference (WIC) in Wuzhen, east China's Zhejiang Province, Nov. 22, 2020. (Xinhua/Huang Zongzhi)
BEIJING, Dec. 21 (Xinhua) -- Commercial use of 5G standalone (SA) network, an advanced stage evolved from 5G non-standalone (NSA) network, has made great headway, according to an industrial white paper, quoted by cnstock.com on Monday.
The white paper, recently unveiled by China's telecommunication company ZTE and Global System for Mobile Communications Association (GSMA), shows that major network providers in China, the United States, the Republic of Korea (ROK), Australia and New Zealand are vigorously deploying the 5G SA network.
According to GSMA, more than half of the surveyed operators will roll out 5G SA network in two years, among which 18 percent of operators are expected to do so next year.
Noting that more than 100 5G networks for commercial use have been established globally since 2019, the white paper said most applied the NSA structure which does not allow taking full advantage of the 5G functions.
The white paper also elaborates on challenges facing 5G SA and solutions, covering seamless coverage, multi-Radio Access Technology (RAT) co-existence, end-to-end network slicing, and 5G business-oriented network and service applications.
According to the 3rd Generation Partnership Project's (3GPP) definition, 5G is sorted by NSA and SA networks. SA refers to those with standalone structures applying 5G base stations and 5G core networks, which is a trend for future development.
China has established more than 700,000 5G base stations since the country greenlighted the commercial use of 5G in 2019. Major cities like Beijing and south China's tech hub Shenzhen have realized full coverage of 5G SA network, according to Ministry of Industry and Information Technology (MIIT).
(Edited by Li Shimeng with Xinhua Silk Road, lishimeng@xinhua.org)