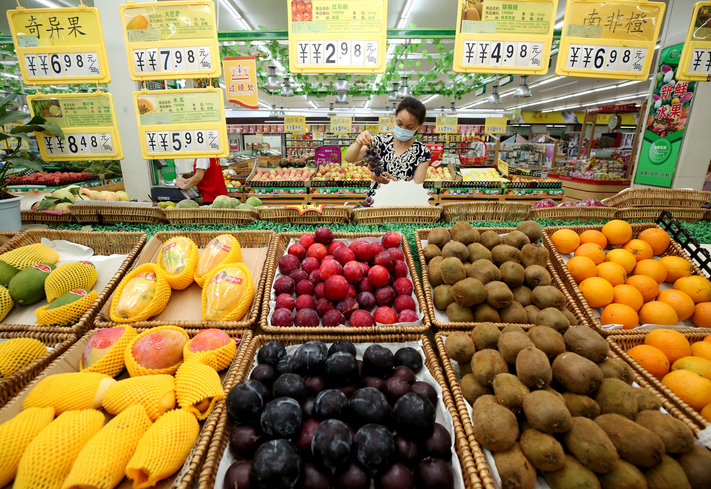 BEIJING, Dec. 4 (Xinhua) -- Chinese Internet giants are aggeragating their investment and business layout in the community group buying market in China on booming opportunities in the sector amid the COVID-19 pandemic, according to a report by Economic Information Daily on Friday.
For example, ride-hailing giant Didi launched community group buying service in June via WeChat mini-program, allowing consumers to place orders online and choose to pick up goods at a delivery spot near their homes or get it delivered directly.
Didi will not set upper limit on investment in the community group buying business, and the goal is to win the market, Cheng Wei, CEO of Didi said in an interview with iFeng.com.
Meituan Dianping, a leading on-demand delivery service provider, set up a premium business division in July to provide local communities with group buying services.
Likewise, Pinduoduo, the social commerce platform known for its group buying feature, attaches great importance to the community group buying business. In August, the company launched its community group buying program "Duo Duo Cai" and made available a specialized mini-program on WeChat.
Alibaba Group's establishment of the community group buying business unit in September also speaks to its emphasis on the sector.
In terms of capital investment, Alibaba Group became an investor of the community-based group buying startup Shihuituan, while Tencent invested in Xingsheng Youxuan, which is also an upstar in the community group buying market.
The internet companies' moves came following the rapid growth of the community group buying business amid the pandemic. According to a report by iiMedia Research, the scale of the community group buying market in China is expected to reach 72 billion yuan in 2020 and likely to hit 102 billion yuan by 2022.
Everbright Securities held it that community group buying characterized by pre-sale plus self-pickup offers a solution for e-commerce industry to acquire more users and will become the mainstream mode of e-commerce in future.
While community group buying is not new in China, the value of the business is revalued, as more consumers continue to buy goods through e-commerce platforms out of health concerns amid the pandemic. In the short term, the market competition may intensify at a faster pace, with more seasoned leading enterprises and adequately-financed niche players battling for market share, according to Ping An Securities. (Edited by Su Dan with Xinhua Silk Road, sudan@xinhua.org)