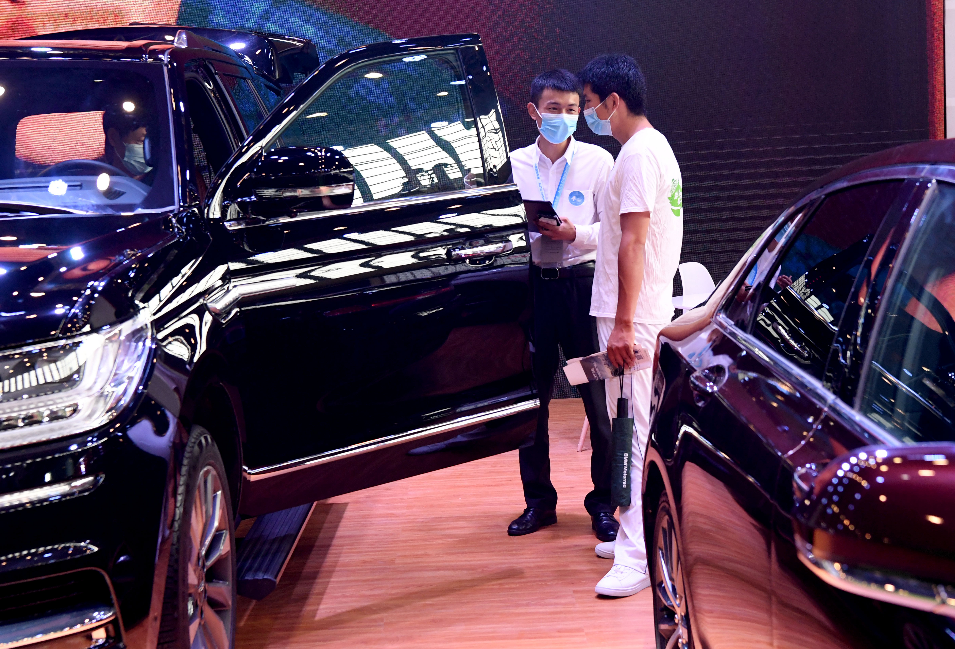 People visit the ninth Central China International Auto Expo in Zhengzhou, capital of central China's Henan Province, June 12, 2020. More than 70 automobile brands from home and abroad have participated in the expo which kicked off on Friday. (Xinhua/Zhu Xiang)
BEIJING, Aug. 11 (Xinhua) -- The Chinese auto market is accelerating its recovery with the effective control of the COVID-19 epidemic and introduction of a slew of policies supporting domestic consumption, the Xinhua-run Economic Information Daily reported on Tuesday.
--- Main engine for global auto industry
The domestic market has achieved positive growth for three consecutive months since April, and it is becoming the main engine driving the global auto industry.
Statistics of the China Association of Automobile Manufacturers (CAAM) shows that China's auto output and sales in June amounted to 2.325 million units and 2.3 million units, respectively, up 6.3 percent and 4.8 percent month-on-month, and 22.5 percent and 11.6 percent year-on-year.
According to a report recently released by the China Automobile Dealers Association (CADA), the high-end car market in China maintained a good growth trend in July and is expected to see a growth rate of about 30 percent in the coming months.
Compared with their performance in the Chinese market, the high-end brands such as BMW and Audi in the global market outside China are sluggish.
BMW Group sold more than 320,000 vehicles in China in the first half of the year, and its growth in the second quarter was 17 percent. However, its global market sales in the first half of the year fell by 23 percent, and its sales declined 32.3 percentin the European market and 29.4 percent in American market year on year.
The Chinese market has also given strong support to the sales of Japanese cars. Brands such as Toyota and Nissan have maintained positive growth in the domestic market for three consecutive months.
In June, Toyota's new car sales increased by 22.8 percent year-on-year, Nissan's sales up 4.5 percent year-on-year, and Mazda's sales up 7.3 percent year-on-year.
-- Foreign investment destination
In addition to fueling global auto sales, China's auto industry has also become a hot spot for global investment and an important carrier for advancing technological progress and product upgrades.
German carmaker Mercedes-Benz and China's battery giant Contemporary Amperex Technology Co. Limited (CATL) on Aug. 5 announced to expand their partnership to develop future battery technologies. The two sides will jointly develop high-tech battery technology to support the large-scale electrification of the Mercedes-Benz cars.
Not long before this, Mercedes-Benz announced that it would invest in Farasis, a Chinese battery cell manufacturer and hold approximately 3 percent stake in the Chinese company. They will develop high-tech battery technology to enhance the driving range of new energy vehicles (NEVs) by increasing energy density and shortening the charging time.
At the end of May this year, Volkswagen invested 2.1 billion euros in Anhui Jianghuai Automobile Group Corp., Ltd. (JAC) and Guoxuan High-tech Co., Ltd. (002074.SZ), a power battery company.
BMW continues to increase investment in electric vehicles and digitization and built an advanced component industry cluster in northeast China's Liaoning Province with Brilliance Auto.
Experts note that as China continues to implement measures such as stabilizing foreign investment and liberalizing the shareholding ratio of joint ventures, global auto enterprises' investment in the Chinese market will continue to accelerate. (Edited by Hu Pingchao with Xinhua Silk Road, hupingchao@xinhua.org)