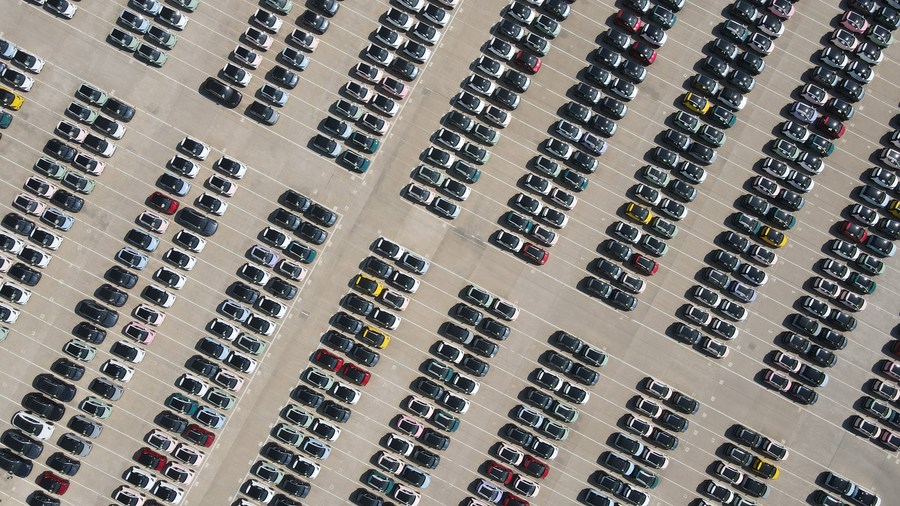 Aerial photo taken on Oct. 12, 2022 shows new energy vehicles made by Chinese automaker Chery Holding Group Co., Ltd. in Wuhu, east China's Anhui Province. (Xinhua/Zhou Mu)
BEIJING, Oct. 27 (Xinhua) -- Policy measures have been issued in multiple places in China lately to support the consumption of new energy vehicles (NEVs), upon which experts believe that the production and sales of NEVs should remain growth momentum in the fourth quarter, reported Securities Daily on Thursday.
Currently, NEV consumption is making important contribution to domestic consumption recovery, said Wu Qi, executive director of the Wuxi Institute of Digital Economy based in east China's Jiangsu Province. The new measures taken should not only strengthen consumption promotion, but boost the implementation of existing policies, according to Wu.
For instance, Shaoxing City in east China's Zhejiang Province has issued several policies on October 13 to promote NEV consumption through various measures such as offering subsidies for NEV purchase and giving discounts to qualified families and talents.
Introducing policies to support the consumption of NEVs is an important means to stimulate consumption and expand domestic demand, which is conducive to boosting the confidence of the NEV market and driving the recovery of related industries, said Song Xiangqing, director of the industrial economy research center at Beijing Normal University.
According to data from the China Passenger Car Association, 611,000 NEVs were sold in China in September, up 82.9 percent year on year. With the policy moves starting to show effect, it is expected that the production and sales of NEVs will continue to maintain the booming trend in the fourth quarter.
(Edited by Yu Huichen with Xinhua Silk Road, yhc0267@163.com)