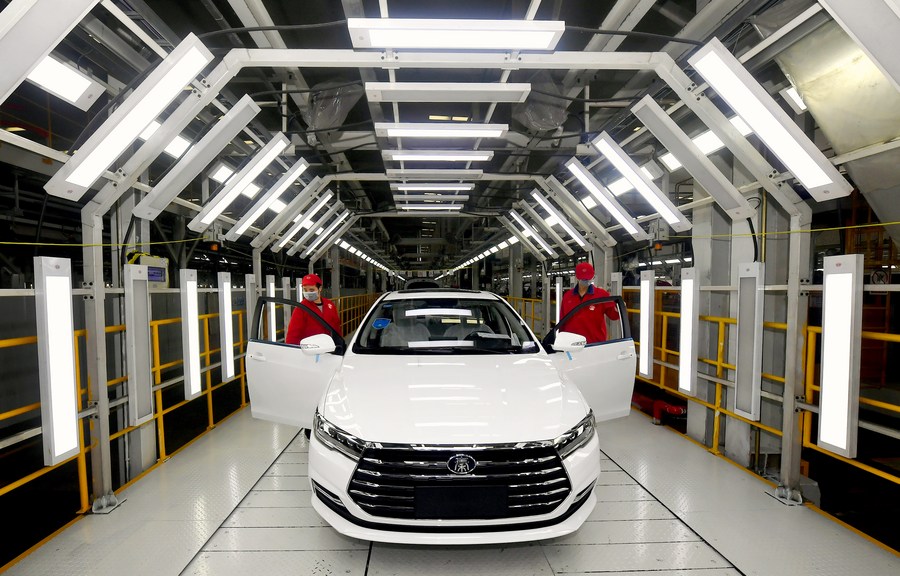 Workers work on the assembly line at a factory of vehicle manufacturer BYD in Xi'an, northwest China's Shaanxi Province, Feb. 25, 2020. (Xinhua/Liu Xiao)
BEIJING, Jan. 14 (Xinhua) -- The third-generation pure electric unmanned delivery vehicle jointly developed and designed by China's leading new-energy vehicle manufacturer BYD and U.S. innovative company Nuro, was officially unveiled Thursday, reported Shanghai Securities News.
The project was launched in August of 2019, and is scheduled to go into mass production in early 2023, aiming to provide local consumers with smarter and more environmental-friendly delivery services.
Co-established in the Silicon Valley in 2016 by Zhu Jiajun and Dave Ferguson, former chief engineers of Google's self-driving car team, Nuro is dedicated to the research and development of self-driving trucks, and has successively launched two generations of unmanned vehicles for delivery services in restaurants, grocery stores and other scenes.
Up to now, Nuro has successfully completed trial operations of automatic distribution in communities in Texas, Arizona and California.
According to data from PatSnap, an information services provider, Nuro mainly engages in autonomous robots, autonomous vehicles, self-driving, processors, semi-autonomy, transportation systems, remote operation, and other technical areas. It has disclosed 170 patent applications, among which patents for invention account for more than 97 percent.
According to BYD, under the partnership, BYD is responsible for developing, testing and manufacturing the vehicles, and providing core assembly components such as blade battery, motor, electronic controller and human-computer interaction. The whole vehicle production is completed in BYD's factories in China, and the assembly of vehicle power battery and automatic driving parts is conducted by BYD's factory in Lancaster of the U.S. Nuro provides technologies including self-driving, gateway, control module and sensor.
Li Ke, the executive vice president of BYD and president of BYD's branch in North America, said that BYD would use the manufacturing technology of its Lancaster factory to help Nuro achieve product innovation, and the two sides will jointly develop this revolutionary unmanned delivery vehicle to bring safer, cleaner and smarter logistics services to the locals.
Zhu Jiajun, CEO of Nuro, introduced that this delivery vehicle would operate in designated public roads in the U.S., and Nuro plans to produce self-driving cars in volume by cooperating with BYD, striving to improve road safety, air quality and logistics efficiency.
(Edited by Tong Ting, Gu Shanshan with Xinhua Silk Road, gushanshan.1987@163.com)