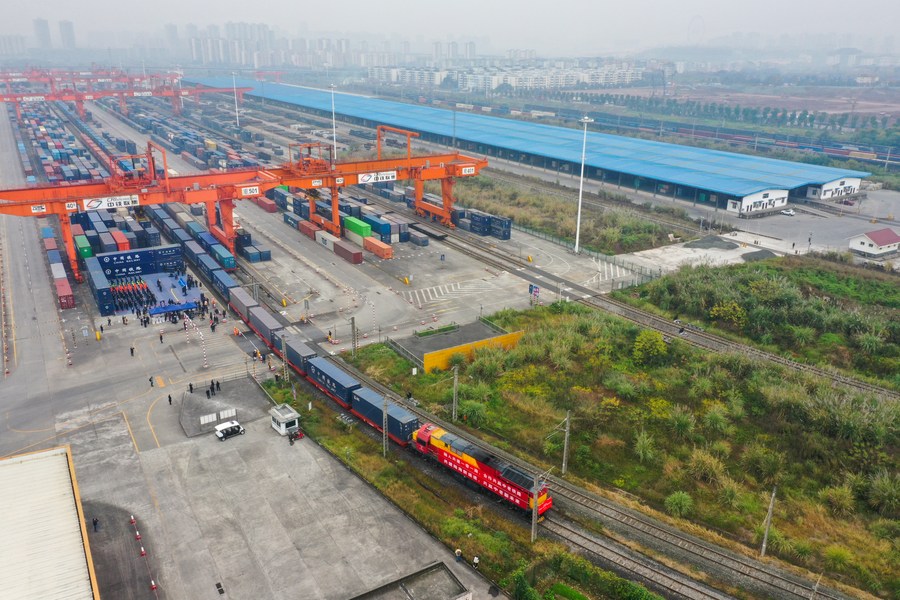 Aerial photo shows a freight train bound for Lao capital Vientiane departing from southwest China's Chongqing Municipality, on Dec. 4, 2021. (Xinhua/Tang Yi)
CHONGQING, Dec. 19 (Xinhua) -- The foreign trade of southwest China's Chongqing Municipality totaled 720.49 billion yuan (about 113.19 billion U.S. dollars) from January to November, up 24 percent year on year, customs data showed.
Chongqing's exports increased to 463.11 billion yuan, up 23.9 percent, during this period, while its imports grew 24.1 percent to 257.38 billion yuan.
The city's import and export with ASEAN, the European Union, and the United States totaled 114.23 billion yuan, 112.22 billion yuan and 107.89 billion yuan, respectively, in the first 11 months.
Its trade with countries along the Belt and Road reached 197.26 billion yuan, up 25.7 percent compared with the same period last year.
During the same period, Chongqing's major export commodities included laptops, tablet computers and automobiles, and its import commodities included integrated circuits, semiconductor-manufacturing equipment and metallic mineral.