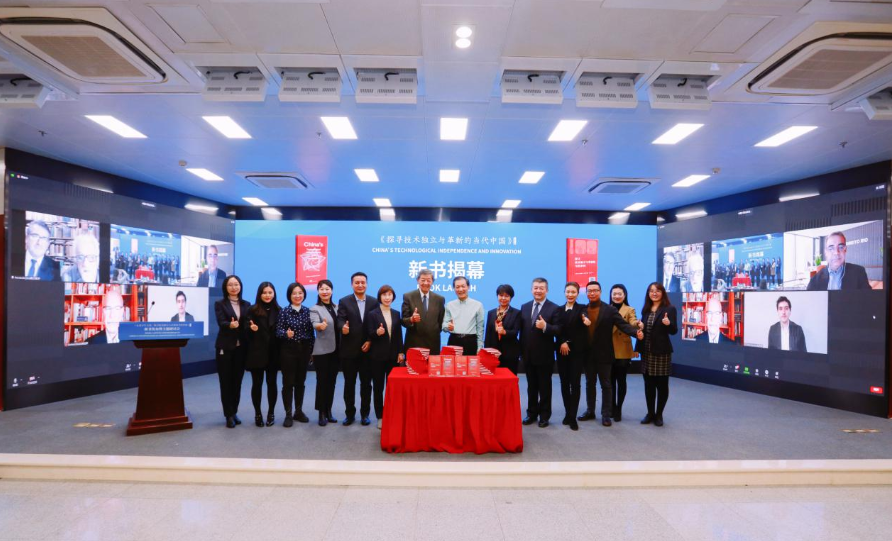 A book entitled "China's Technological Independence and Innovation" is published in Beijing, Dec. 7, 2021.
BEIJING, Dec. 18 (Xinhua) -- A seminar with the theme "The Belt and Road Initiative and China-CELAC Win-win Cooperation" has recently been held in Beijing, the Belt and Road Portal reported on Saturday.
Against the background of the Belt and Road Initiative (BRI), Brazil must shift its focus to China and the mutual trust between China and Latin America has been increasing. South American countries can join hands with China to build the BRI, and thus get more trade opportunities to mitigate the adverse effects of the pandemic, according to Evandro Menezes de Carvalho, international law professor and coordinator of the Center for Brasil-China Studies at Fundacao Getulio Vargas (FGV), Brazil.
Gustavo Alejandro Girado, professor of Lanus National University, Argentina, and also author of the book entitled "China's Technological Independence and Innovation", pointed out that Latin American countries should re-examine China from a more comprehensive perspective, and should give full attention to and make good use of the complementarity with China, and share the opportunities provided by China. The cooperation between China and Latin America must be established on the basis of mutual benefit, mutual respect and mutual trust, and strive to expand common interests and pave the way for common prosperity.
China-CELAC cooperation has yielded fruitful results. China and the Latin American countries have to strengthen people-to-people exchanges in the future so as to lay a solid foundation and promote continued positive development of the cooperation, said Ding Yifan, researcher of the Institute of World Development, Development Research Center of the State Council.
Before the seminar, a book entitled "China's Technological Independence and Innovation" has been introduced.
Gustavo Alejandro Girado, author of the book, noted that the book elaborates the great significance of the Chinese government's efforts in getting rid of technology dependence and promoting independent innovation of technology for its economic development.
Moy Hau, editor of Prunus Press, a U.S. publishing house, said that on the one hand, the book can help the West to understand the dynamics and mechanisms behind China's economic development, and on the other hand, it also allows the readers to feel China's continuous and unremitting efforts to improve the level of science and technology and create a better life.
To promote the book, China National Publications Import and Export (Group) Co., Ltd (CNPIEC) hosted a book launch ceremony and the seminar in Beijing both online and offline. (Edited by Hu Pingchao with Xinhua Silk Road, hupingchao@xinhua.org)