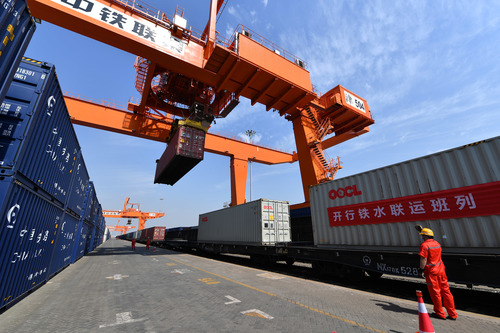 A staff member works for the departure of China-Europe freight train X9202 at the Tianjin Pilot Free Trade Zone (FTZ) in north China's Tianjin Municipality, May 20, 2020 (Xinhua/Li Ran)
BEIJING, June 23 (Xinhua) -- China's port city Tianjin saw its trade with Belt and Road (B&R) countries stand at 61.68 billion yuan during January-April, up 12.3 percent year on year, and accounted for 25 percent of the city's total foreign trade, according to the Tianjin Customs.
Specifically, exports increased 17.4 percent on year to 35.65 billion yuan, while imports stood at 26.03 billion yuan, up 5.9 percent year on year.
In terms of trading partners, ASEAN countries and regions took the largest share, with the total trade reached 31.98 billion yuan, accounting for 51.8 percent of that with B&R countries during the period.
Mechanical and electrical products and agricultural products topped the list of import commodities with volumes of 13.23 billion yuan and 2.85 billion yuan, registering 1.2 percent drop and 13 percent increase on year, respectively.
Among the export commodities, mechanical and electronic products took the lion's share of 61.9 percent and reached 22.05 billion yuan, up 2.7 percent on year.
(Edited by Niu Huizhe, Wang Siyi with Xinhua Silk Road, niuhuizhe@xinhua.org)