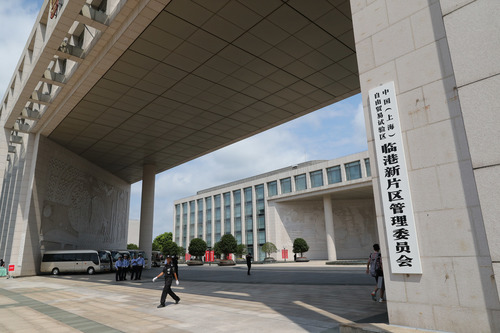 SHANGHAI, Nov. 19 (Xinhua) -- Shanghai's authorities recently outlined a three-year action plan (2020-2022) calling for state-owned enterprises to invest 300 billion yuan in the Lin-gang Special Area of China (Shanghai) Pilot Free Trade Zone (FTZ), in an effort to boost the development of the area, reported the Xinhua-run cs.com.cn Wednesday.
The action plan aims to give full play to the demonstration and the leading role of Shanghai's state-owned enterprises in facilitating the Lin-gang Special Area's development. It also vows to settle 100 major projects in the area within three years.
Shanghai's state-owned enterprises would prioritize creating first-class entities concerning exploitation and construction, industrial development and financial services in the area, said the action plan.
More efforts will be made to promote development in eight major areas, such as exploiting state-owned industrial parks, developing infrastructure, and forming the industrial alliance of state-owned enterprises.
To be specific, the industrial alliance will focus on the allocation and layout of funds and human resources in integrated circuits, artificial intelligence (AI), biomedicine and new energy industries to bridge inter-enterprise cooperation.
(Edited by Jiang Feifan with Xinhua Silk Road, 346129473@qq.com)