China and Nepal signed a Memorandum of Understanding (MOU) for cooperation on the Belt and Road Initiative (BRI) in Beijing during the 1st Belt and Road Forum for International Cooperation in 2017.
The Nepali president said she believes that the friendship between Nepal and China will become more impregnable and bilateral cooperation will achieve more results in the wake of the COVID-19 outbreak.
Nepal is ready to work with China to jointly build the Belt and Road and push forward the building of a community with a shared future for mankind, she added.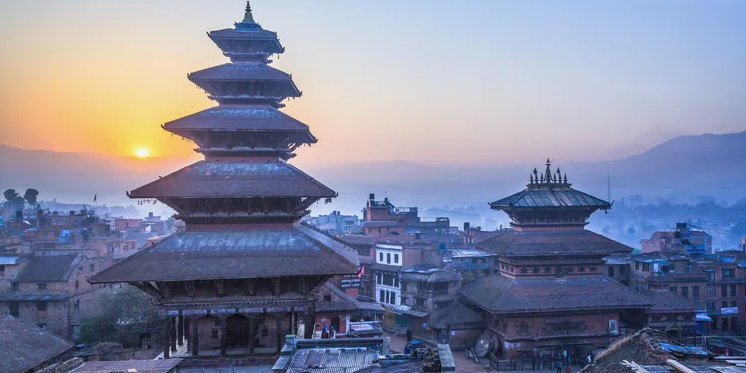 Nepal is a collision zone.
The towering Himalaya Mountains attest to the colossal tectonic force of the Indian Subcontinent as it plows into mainland Asia.
Nepal also marks the collision point between Hinduism and Buddhism, between the Tibeto-Burmese language group and the Indo-European, and between Central Asian culture and Indian culture.
It's little wonder, then, that this beautiful and diverse country has fascinated travelers and explorers for centuries.
Capital: Kathmandu, population 702,000
Major Cities: Pokhara, population 200,000, Patan, population 190,000, Biratnagar, population 167,000, Bhaktapur, population 78,000
-- Government
As of 2008, the former Kingdom of Nepal is a representative democracy.
The president of Nepal serves as chief of state, while the prime minister is head of government. A Cabinet or Council of Ministers fills out the executive branch.
Nepal has a unicameral legislature, the Constituent Assembly, with 601 seats. 240 members are directly elected; 335 seats are awarded by proportional representation; 26 are appointed by the Cabinet.
The Sarbochha Adala (Supreme Court) is the highest court.
-- Official Languages
According to Nepal's constitution, all of the national languages can be used as official languages.
There are over 100 recognized languages in Nepal. The most commonly used are Nepali (also called Gurkhali or Khaskura), spoken by nearly 60 percent of the population, and Nepal Bhasa (Newari).
Nepali is one of the Indo-Aryan languages, related to European languages.
Nepal Bhasa is a Tibeto-Burman tongue, part of the Sino-Tibetan language family. Roughly 1 million people in Nepal speak this language.
Other common languages in Nepal include Maithili, Bhojpuri, Tharu, Gurung, Tamang, Awadhi, Kiranti, Magar, and Sherpa.
-- Population
Nepal is home to nearly 29,000,000 people. The population is primarily rural (Kathmandu, the largest city, has less than 1 million inhabitants).
Nepal's demographics are complicated not only by dozens of ethnic groups but by different castes, which also function as ethnic groups.
In total, there are 103 castes or ethnic groups.
The two largest are Indo-Aryan: Chetri (15.8% of the population) and Bahun (12.7%). Others include Magar (7.1%), Tharu (6.8%), Tamang and Newar (5.5% each), Muslim (4.3%), Kami (3.9%), Rai (2.7%), Gurung (2.5%) and Damai (2.4%).
Each of the other 92 castes/ethnic groups make up less than 2%.
-- Geography
Nepal covers 147,181 sq. kilometers (56,827 sq. miles), sandwiched between the People's Republic of China to the north and India to the west, south, and east. It is a geographically diverse, land-locked country.
Of course, Nepal is associated with the Himalayan Range, including the world's tallest mountain, Mt. Everest. Standing at 8,848 meters (29,028 feet), Everest is called Saragmatha or Chomolungma in Nepali and Tibetan.
Southern Nepal, however, is a tropical monsoonal lowland, called the Tarai Plain. The lowest point is Kanchan Kalan, at just 70 meters (679 feet).
Most people live in the temperate hilly midlands.
-- Economy
Despite its tourism and energy-production potential, Nepal remains one of the world's poorest countries.
Agriculture employs more than 75% of the population and produces 38% of GDP. The primary crops are rice, wheat, maize, and sugarcane.
Nepal exports garments, carpets, and hydroelectric power.
(Above information from Internet)