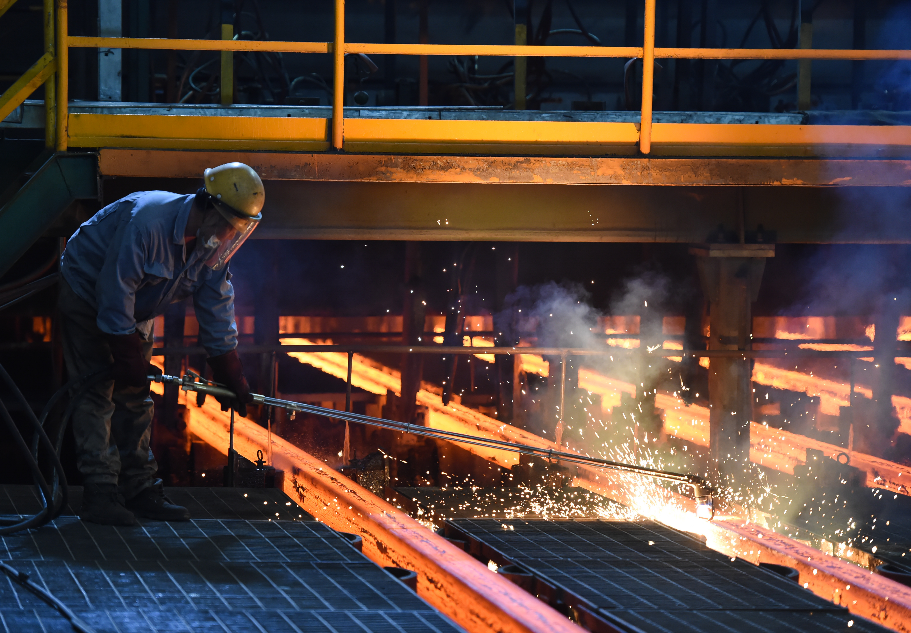 Photo: A worker is busy working at the production line of a special steel production enterprise in Haibowan District of Wuhai City, north China's Inner Mongolia Autonomous Region, April 22, 2020. (Li Zhipeng/Xinhua)
BEIJING, Sept. 14 (Xinhua) -- China is speeding up mergers and reorganizations of the steel mills, aiming for higher concentration in the coming years.
Industry insiders note that with China's economy entering the period of transformation, its steel industry has also entered a period of adjustment and upgrading. Capacity rationalization and industrial restructuring are major features during the period. Restructuring of the industry is expected to be the highlight in the next three years.
-- Steel enterprises consolidation continues
Jingye Group, a private steel producer based in north China's Hebei Province, announced on September 11 to formally acquire Guangdong Taidu Iron and Steel Industry Share Co., Ltd., another move of the steelmaker since its acquisition of the British Steel and the Yunnan Yongchang Iron and Steel Company this year.
On the same day, HBIS Company Limited (000709.SZ) announced that the company and HBIS Group Tangsteel Company signed an agreement to transfer the closed assets of its Tangshan Branch to Tangsteel.
Earlier, Baowu Steel Group, China's largest steel producer, signed a strategic cooperation agreement with Shanxi State-owned Capital Investment Operation Co., Ltd. to take a 51-percent stake in Taiyuan Iron & Steel (Group) Co., Ltd. (TISCO) held by the latter. It represents the latest consolidation made by the steel giant after its reorganization of steelmaker such as Masteel Group and Chongqing Iron and Steel Group.
Data show that in 2019, Baowu saw its steel output stand at 95.46 million metric tons (tonnes), with a turnover of 552.2 billion yuan (about 80.8 billion U.S. dollars) and a total profit of 34.53 billion yuan. TISCO achieved a crude steel output of 10.86 million tonnes, with an operating income of 79.7 billion yuan and a total profit of about 3.51 billion yuan last year.
Industry insiders point out that against such a background, after reorganization, Baowu will see its annual steel output exceed 100 million tonnes, possibly making it the world's largest steel enterprise by output.
-- Big room for steel industry concentration
"The current low industrial concentration has become a key issue that restricts the healthy and sustainable development of the country's steel industry," said Dong Caiping, chairman of China Chamber of Commerce for Metallurgical Enterprises.
Industry insiders said that after fully cutting excess capacity, the domestic steel industry will enter the stage of optimization and upgrade mainly focused on mergers and reorganizations from that of the investment-driven scale expansion in the past.
"The major objective of mergers and reorganizations is to increase industry concentration," said Shen Bin, chairman of China Iron and Steel Association (CISA).
According to Shen, the top four steelmakers by output in Europe, America, Japan and Republic of Korea (ROK) and other countries and regions usually see their combined output account for more than 60 percent of the industry's total, showing high concentration. By contrast, the proportion in China was only 21 percent in the first half of the year.
Data show that in 2019, the industry concentration of China's top 10 steelmakers was only 36.8 percent, far lower than the country's target.
In 2016, China released a guideline to promote the mergers and reorganizations in the steel industry, proposing that 60 percent to 70 percent of the country's steel output will be concentrated in about 10 large steel groups by 2025.
Apart from the enterprises' active moves to promote mergers and reorganizations, the local authorities have also made efforts to guide the integration.
For example, Handan city in Hebei Province proposed that through mergers and reorganizations, the number of steel enterprises will be integrated from 17 to about eight this year.
Xuzhou city in east China's Jiangsu Province planned to integrate 18 steel companies to form two large-scale steel groups and achieve the goal of reducing steel production capacity by more than 30 percent in 2020. (Edited by Hu Pingchao with Xinhua Silk Road, hupingchao@xinhua.org)