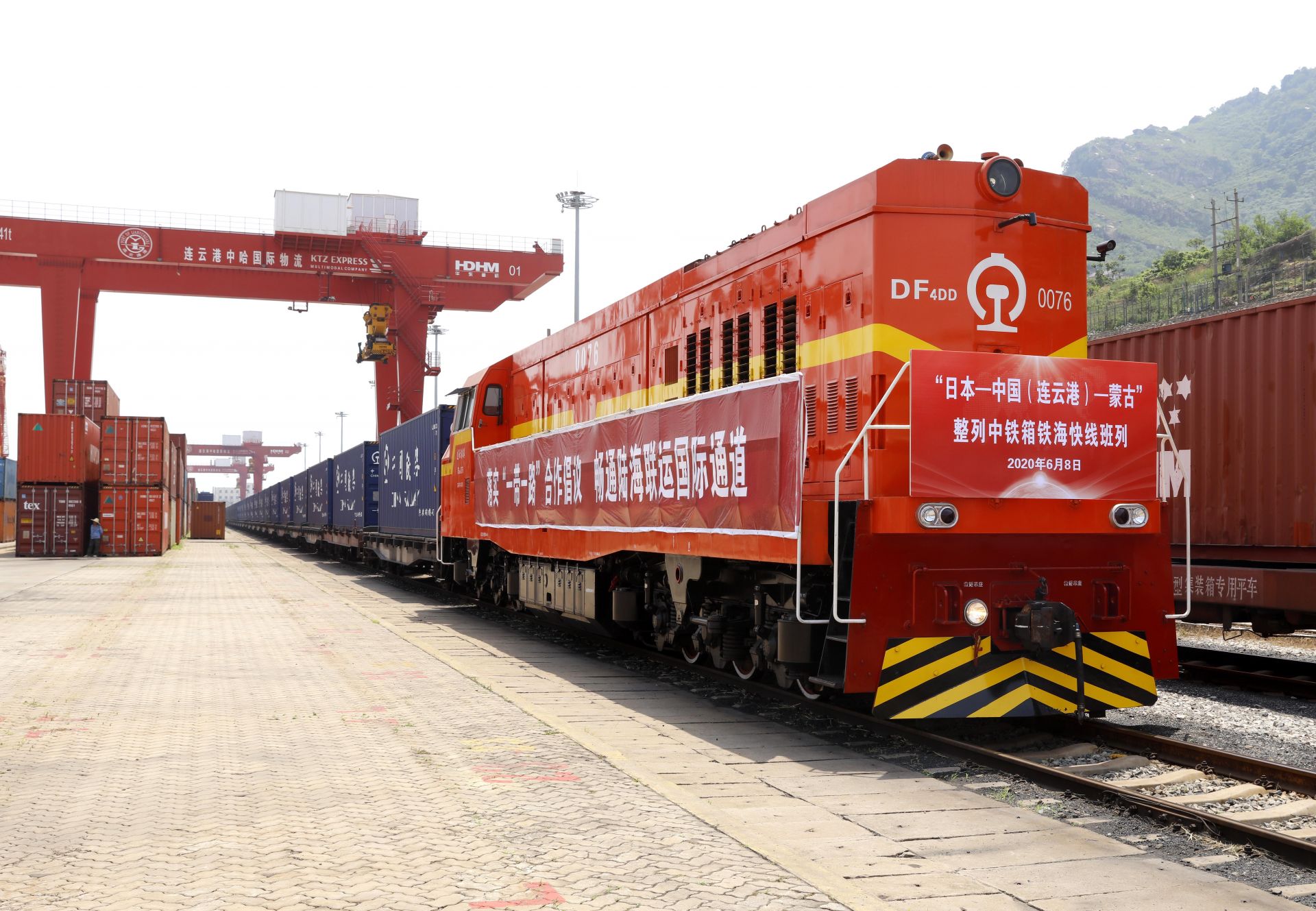 Photo: On June 8, Japan-China (Lianyungang) - Mongolia rail-sea express container train departed from the China-Kazakhstan logistics base in Lianyungang.
BEIJING, June 12 (Xinhua) -- East China's Lianyungang, a coastal city known as the eastern starting point of the New Eurasian Continental Bridge, inaugurated operation of its rail-sea multimodal express container trains linking with Mongolia and Kazakhstan recently.
Boasting the largest seaport in Jiangsu Province where the city locates, Lianyungang contributed to constructing the Euro-Asia land-sea transport channel with its unrelenting efforts and pragmatic experience over the past three years.
Via cooperating with international liner companies, the city expanded coverage of its shipping lines to countries and regions along the Belt and Road routes.
In the past, it would take about a dozen of days for cargo trains departing Lianyungang and passing Horgos, a 136-year-old border crossing in west China, to reach Kazakhstan's largest city Almaty.
Upon debut of its land-sea intermodal transport services, it takes now only six days for trains hereof to reach Almaty, with also freight costs down by more than 20 percent.
By the end of 2019, Lianyungang opened 27 new shipping lines including three ocean shipping routes leading to the Persian Gulf and the Middle East, south and west America and South Africa and hence its shipping lines totaled 70 ones.
What's more, its river shipping lines can basically cover all the river ports in Jiangsu Province, Shandong Province, Henan Province and Anhui Province. After optimizing its sea-river and rail-highway-waterway multimodal transport service system, Lianyungang opened four international sea-rail transport channels connecting inland Chinese cities with the outside, with annual sea-rail joint transport volume and sea-river joint transport volume up to 385,000 TEUs and 15 million tonnes respectively.
In the first four months of this year, the city also added four new shipping lines for boosting domestic and foreign trade, three sea-river shipping lines and three sea-rail intermodal transport channels including the Yangzhou-Lianyungang-Japan/Republic of Korea.
As the New Eurasian Continental Bridge is one of the six economic corridors proposed under the Belt and Road Initiative, Lianyungang attached much importance to fostering related transit trade via exploring good sources for its international cargo trains.
Currently, its westbound cargo trains mainly carry electronic products, machinery and parts, daily necessities, second-hand cars and chemicals. Its eastbound cargo trains primarily transport wheat and iron alloy and after launching the Lianyungang-Vietnam transport channel, the city opened an eastbound channel to Malaysia for wheat from Kazakhstan, bringing up the cargo load of its returning trains effectively.
By far, its China-Asia cargo trains saw average freight amount proportion in their returning trips up to 37.5 percent and the proportion of westbound-eastbound cargo trains increased steadily, with trains of both directions highly balanced.
Via all its sea-rail, highway-railway, highway-waterway and sea-river intermodal transport, Lianyungang sets up its container multimodal demonstration program for transport along the New Eurasian Continental Bridge and promotes seamless connection of multiple transport ways to reduce industry costs.
Since early June of 2017, port of Lianyungang completed cargo throughput of 710 million tonnes and 14.24 million TEUs. The largest container vessel unloaded at the port reached 17,000 containers and deadweight capacity of fully-loaded bulk carriers reached 320,000 tonnes.
Apart from the multimodal transport, digitalization in port of Lianyungang also helped pooling resources to facilitate its aim to build the new Euro-Asia land-sea transport channel.
At present, Lianyungang China-Kazakhstan logistics base has realized smart scheduling, visualized production process, unmanned operation and direct vehicle services at ship stations.
By April, entry-exit cargo volume and container volume at Lianyungang China-Kazakhstan logistics base grossed 11 million tonnes and 670,000 TEUs. From January to April this year, the two indicators rose 27 percent and 10 percent year on year to 1.3 million tonnes and 68,000 TEUs.
Apart from these, Lianyungang remains the only port permitted of full-range data exchange among China's railway ports and real-time inquiry in Kazakhstan railway system. Thanks to this, its cargo train transport arranging and customs clearance efficiency improved significantly, with paper certificates required hereof reduced to eight from 16 ones, helping cargo trains to Almaty take only 6.5 days to finish their single-way trip.
Alongside debut of innovative practices such as "zero waiting time" for customs supervision and inspection of cargos upon their arrival, its international freight trains operation efficiency improved by 74 percent and for each container, costs reduced by about 60 percent during January to April this year.
In the future, Lianyungang vows to further exploit its advantages in opening up to the east and the west and linking up land with sea to contribute more to the new Euro-Asia land-sea transport channel. (Edited by Duan Jing with Xinhua Silk Road, duanjing@xinhua.org)