Thai Prime Minister Prayut Chan-o-cha speaks during the inauguration ceremony of Thailand's first high-speed railwayin Pak Chong, Thailand, Dec. 21, 2017. Thailand and China jointly inaugurated the construction of Thailand's first high-speed railwayfrom Bangkok to northeastern province of Nakhon Ratchasima on Thursday. (Xinhua/Li Mangmang)
--Background
The China-Thailand railway will be Thailand's first standard-gauge railway to be jointly built by China and Thailand. Its planned length is 900 kilometers.
A "rice for high-speed rail" plan was first proposed by both countries in 2012 during the visit of the then Thai Prime Minister Yingluck Shinawatra to China. The plan was then shelved as a result of political turmoil in Thailand. After approval by the Thai Parliament on December 6, 2014, a memorandum of understanding for the rail project was signed on December 19. The signing was witnessed by Chinese Premier Li Keqiang and Thai Prime Minister Prayut Chan-o-cha. Formal consultation on the project followed.
A ground-breaking ceremony was held in Thailand on December 19, 2015. The construction of the Bangkok-Kaeng Khoi section began in early 2016, and is scheduled to be completed in three years. The entire rail system is expected to be operational in five years.
This rail cooperation project will be a showcase for effective alignment between China's Belt and Road Initiative and Thailand's infrastructure development plans. Serving Thailand's northeastern regions and covering major cities, the network will be a great boon to economic development and standards of living in those regions.
--Major routes
The railway is divided into two phases: the first is a 250-km-long line linking the Thai capital Bangkok and the northeastern province of Nakhon Ratchasima.
The other phase connects Nakhon Ratchasima and the Thai border at Nong Khai Province. Then, a railway bridge linking Nong Khai with the Lao's capital Vientiane will connect the Thai rail with the Laos network.
It is part of China's plan for a network of links across the Southeast Asia, that had its starting point in a memorandum of understanding (MoU) on railway cooperation signed by the Chinese and Thai governments in 2014.
--Key events
In December 2017, Thailand and China jointly inaugurated the construction of the railway with the construction of the first phase kicking off with a 3.5-kilometer section.
The Thai project is strategically important for infrastructure connectivity and development.
"In addition to creating economic opportunities and encouraging mobility, the project will also be vital in increasing connectivity between China and ASEAN (Association of Southeast Asian Nations) through the China-Laos railway and other economic corridors in the region, namely the North-South Economic Corridor, Northern Economic Corridor, and Eastern Economic Corridor," Thai Prime Minister Prayut Chan-o-cha said in April.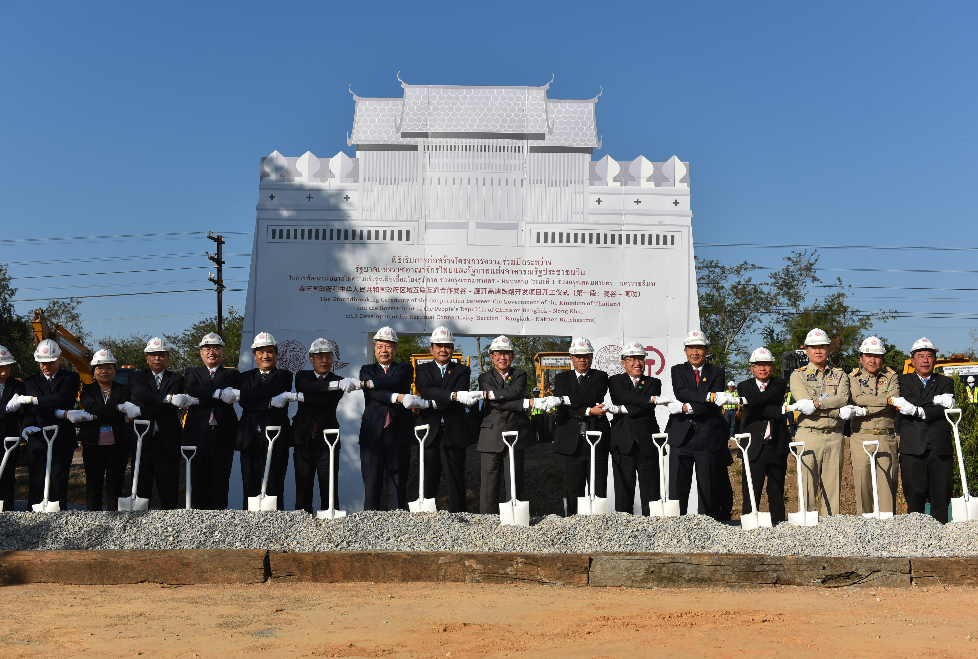 Honored guests attend the inauguration ceremony of Thailand's first high-speed railwayin Pak Chong, Thailand, Dec. 21, 2017. Thailand and China jointly inaugurated the construction of Thailand's first high-speed railwayfrom Bangkok to northeastern province of Nakhon Ratchasima on Thursday. (Xinhua/Li Mangmang)
--Planned operation schedule
China - Thailand Railway, or Sino - Thai Railway hasn't been opened yet. The construction began in December, 2017. About 4 years are needed to complete this high speed rail project, by when it will run through three countries including China, Laos and Thailand. It will serve trains running between Kunming and Bangkok. In the far future, this China - Thailand railway project will be extended all the way to Singapore, shaping a high speed railway as long as 1,864 miles (3,000 km), namely Kunming - Singapore Railway.
Scheduled Open Time: 2021
Designed Speed: 99–124 mph (160-200 km/h)
Running Length: about 790 miles (1,272 km)
Expected Duration: about 12 hours
Estimated Round-trip Ticket Price: CNY 700 or THB 3,600, equaling to half or 1/3 of the flight ticket fare
Planned Stations along the Way: Kunming South, Kunyang, Jinning East, Huacheng, Baofeng, Yuxi, Yuxi South, Yuanjiang, Mojiang, Puer, Jinghong, Mohan, Vientiane, Nong Khai, Khon Kaen, Nakhon Ratchasima, and Bangkok
--Sino-Thai Railway Sections
Kunming-Mohan: This section consists of the Kunming-Yuxi Railroad and Yuxi-Mohan Railroad. Currently, the former section has been put into service since December 15th, 2016 and the journey time is 1.5 hours. The construction of the latter section began on 29th April, 2016 and the distance is 315 miles (507 km); the designed speed is 99 mph (160 km/h) and the intermediate stations include Yuanjiang, Mojiang, Puer, and Jinghong.
Mohan (Boten)-Vientiane: This section started on 2nd December, 2015 and it will be put into service before 2020. The planned running speed is 99 mph (160 km/h) and the total journey is 265 miles (427 km).
Vientiane (Nong Khai)-Bangkok: The designed speed is 99–112 mph (160-180 km/h) for this section. The construction started in Dec. 21, 2017 and will last for 4 years. It will completely change the rail provision of Thailand and the country will have the first standard-gauge rail track. The stations along this way include Nong Khai, Khon Kaen, Nakhon Ratchasima. In the future, this railroad will be extended to eastern Rayong Province in Thailand.
--Belt and Road Initiative
The project will be a legacy project. Laying the foundations along the new Silk Road for a comprehensive modern rail network that will help meet the demands of domestic and international cross border traffic. From a domestic or regional perspective, the project is set to substantially benefit Thailand in the long run.
Poor railways in Thailand have proved insufficient in supporting economic growth in the country's remote and less developed areas.
The Chinese Embassy in Bangkok announced that construction work is slated to begin as soon as October, once China and Thailand sign two contracts next month that cover design and supervision expenses.
The two contracts will be signed during Thai Prime Minister Prayut Chan-o-cha's visit to China on 4-5 September, 2017.
China will provide expertise and supervision, while Thailand will provide equipment and materials. At the request of Thailand, China will also use a number of Thai engineers and architects to help transfer expertise in maintaining, operating and managing high-speed railways.
The railway is part of China's Belt and Road Initiative (BRI). The BRI refers to the Silk Road Economic Belt and the 21st Century Maritime Silk Road, aiming at building a trade and infrastructure network connecting Asia with Europe and Africa along the ancient trade routes of the Silk Road.
The line will link the Thai-Laos border to Bangkok as well as Thailand's main deep-sea port in eastern Thailand. A boon for cargo and cruise ships.
Thai PM General Prayut Chan o-cha is cognisant that by connecting Thailand's poor northeastern Nong Khai province; the capital city Bangkok and the eastern Rayong province, the railway will play a pivotal role in boosting trade, industry and tourism, leading to greater investment and development opportunities thereby reducing the wealth gap that has fueled political turmoil in Thailand.