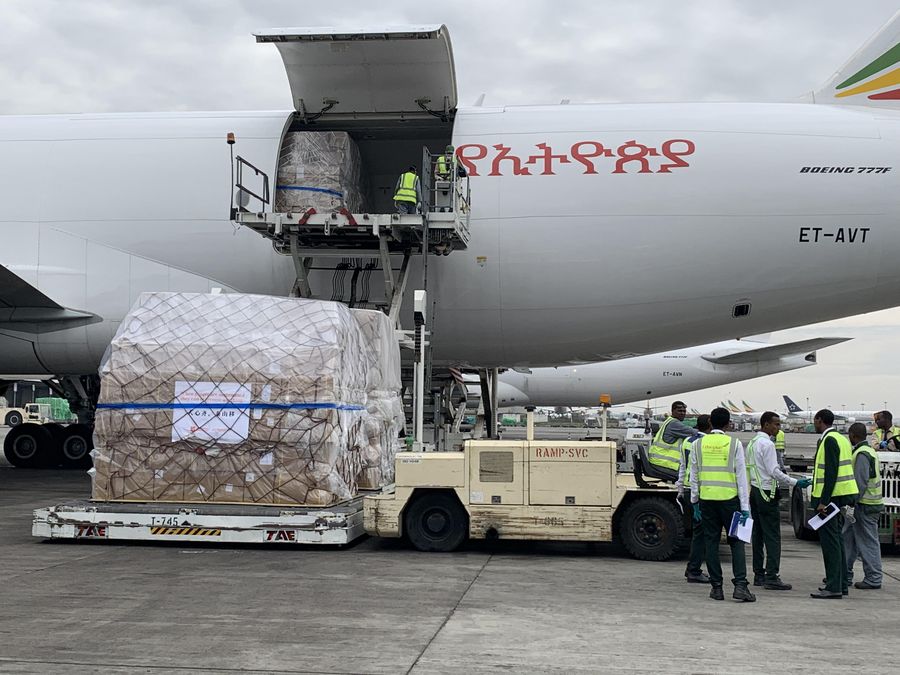 Staff members unload the medical supplies from China at the airport in Addis Ababa, Ethiopia, March 22, 2020. (Xinhua/Wang Shoubao)
China has been providing as much help as possible based on African countries' needs in the fight against COVID-19.
NAIROBI, April 1 (Xinhua) -- The massive supplies donated by Jack Ma Foundation and the Alibaba Foundation, including medical masks, test kits and protective suits and face shields, are being distributed to each of the 54 nations on the African continent.
The supplies were received at a time when the death toll from the COVID-19 outbreak on the African continent has surpassed 170 and more than 5,000 cases were confirmed.
The African Union said that "Africa's response to the novel coronavirus disease outbreak has received a major boost, after the donation of medical equipment by the Jack Ma Foundation and Alibaba Foundation."
With international assistances coming in, African countries affected by the outbreak are taking various measures to curb the spread of the virus, which poses a huge challenge to a continent where relatively weak healthcare systems are reported in most countries.
As one of Africa's timely supporters, China has been providing as much help as possible based on African countries' needs in the fight against COVID-19. It has delivered testing reagents to African countries via Africa CDC and emergency supplies to countries affected.
And a recent video conference between experts and officials from China and African countries on containing the epidemic gathered nearly 300 officials and experts from 24 African countries and the Africa CDC.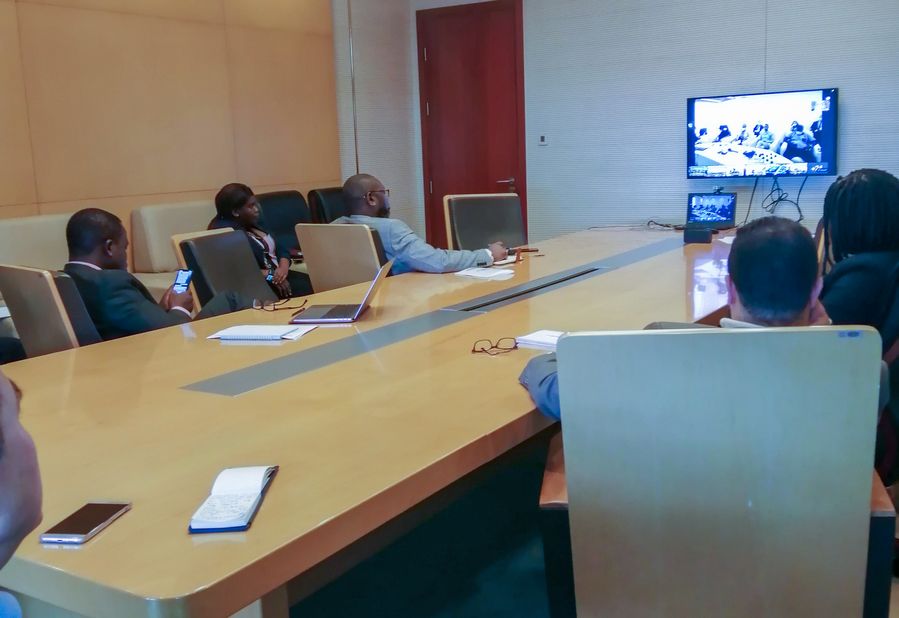 Members of the African Union (AU) Center for Disease Control and Prevention (Africa CDC) participate in the China-Africa Video Conference on COVID-19 in Addis Ababa, Ethiopia, March 18, 2020. (Xinhua/Shiferaw Tadesse)
During the three and a half hours, Chinese experts shared China's experience in epidemic containment and clinic treatment and answered nearly 50 questions from the African side, winning applause from the African side.
On Monday, Zimbabwe's main COVID-19 isolation and treatment center, Wilkins Hospital, which was upgraded by Chinese enterprises at a cost of about 500,000 U.S. dollars, has been completed.
As part of efforts to strengthen Zimbabwe's capacity to handle the coronavirus, the Chinese business community in Zimbabwe, together with the Chinese embassy, mobilized resources to revamp the Wilkins Hospital.
The hospital was mandated to treat suspected and confirmed COVID-19 patients from across the country but dilapidated infrastructure at the hospital hampered the government efforts to curb the spread of the virus in the country.
Speaking at the launch ceremony of the project, Zimbabwe's Health Minister Obadiah Moyo thanked Chinese business community for upgrading the hospital, saying the assistance will greatly improve the country's diagnosis and treatment of COVID-19 patients.
Chinese medical teams are also doing their part. On February 19, Jiang Yuandong, deputy head of Chinese medical team in Zimbabwe gave a lecture to Zimbabwe's ministry of health officials and medical personnel to boost their understanding of COVID-19 outbreak.
Later in March, Jiang trained about 140 medical workers drawn from various Zimbabwe provinces and introduced China's experience in containing the outbreak.
Chinese companies and businesses which have investments in Africa are also helping Africa to their best ability. China's giant shoe manufacturer Huajian Group, which invests in Africa, had donated supplies and equipment, including about 1.08 million surgical masks and 7,000 protective suits, to eight African countries.
Chinese pay television company StarTimes had launched a new dedicated television program in Kenya aimed at sharing the latest information about the COVID-19 pandemic.
Fu Xiongwei, who has been doing photovoltaic business in Uganda for about 10 years, on March 19 sent the first batch of 40,000 masks and hundreds of protective clothing and gloves to support Uganda. He is trying to send more medical supplies to Africa.