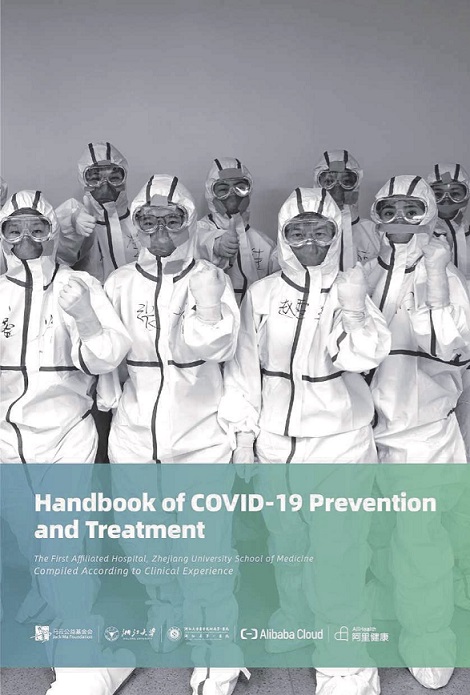 BEIJING, March 25 (Xinhua) -- The Handbook of COVID-19 Prevention and Treatment, which was initiated and sponsored by Jack Ma Foundation and Alibaba Foundation and written by frontline medical experts in China's fight against the virus, was issued on March 18.
The handbook, compiled by the First Affiliated Hospital of Zhejiang University School of Medicine (FAHZU) on the basis of clinical experience and published in Chinese and English, now is available online. It is aimed to offer advice and reference against the pandemic for medical staff around the world who are in or about to join the war against the virus.
According to FAHZU, after two months' fighting against the COVID-2019, Chinese medical experts have explored and summarized a set of practical experience applicable to medical institutions, especially in the treatment of critically ill patients.
The treatment guide has provided detailed and comprehensive solutions on how to treat patients showing different types of symptoms and how to deal with various problems that may occur during the diagnosis and treatment process.
Global medical staff can download full version of the Handbook for free via covid-19.alibabacloud.com, which is a link launched by Alibaba Cloud to promote exchanges of medical experience.
The handbook's Italian, Korean, Japanese and Spanish versions are being prepared at present.
To download the English version of the handbook, please visit the website:
https://res.imsilkroad.com/t/site/10005/4d473e3d82bc11f7acdc5c61858fff99/aedf783eaadbc911e3fc698826cf4b43.pdf
To download the Chinese version of the handbook, please visit the website:
https://res.imsilkroad.com/t/site/10005/4d473e3d82bc11f7acdc5c61858fff99/2e18e4066408f8b3f620b9b701a1c555.pdf
(Edited by Zhang Yuan with Xinhua Silk Road, zhangyuan11@xinhua.org)