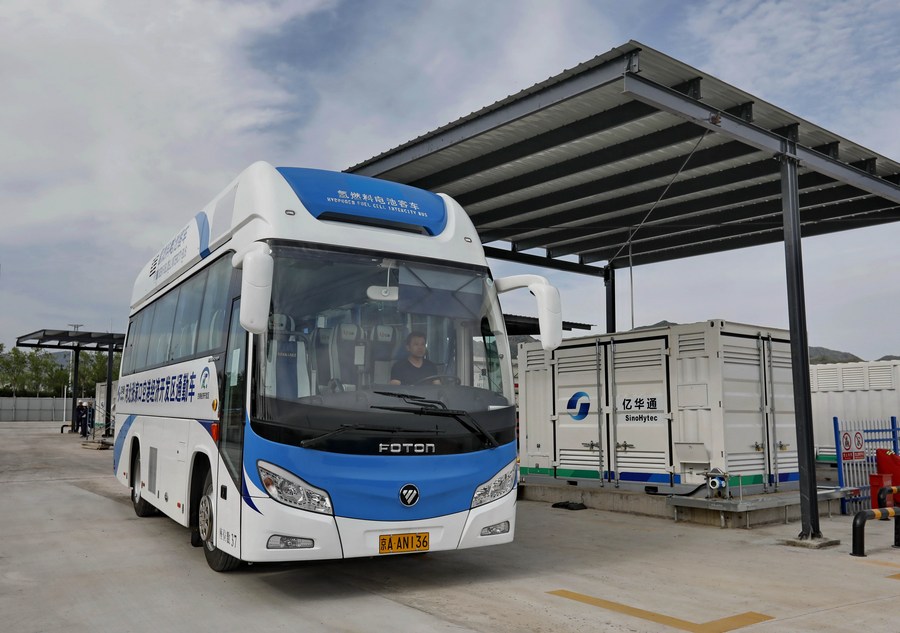 A hydrogen fuel cell intercity bus is fueled at a hydrogen station in Zhangjiakou, north China's Hebei Province, July 25, 2018. (Xinhua/Yang Shiyao)
BEIJING, Aug. 5 (Xinhua) -- China's Shenergy Group has recently signed an agreement with Shell (China) Limited to form a joint venture to build a network of hydrogen refueling stations in east China's Shanghai, promoting high-quality development of the hydrogen industry, reported Shanghai Securities News Thursday.
The joint venture, named Shanghai Shenergy and Shell New Energy Company Limited, is expected to build six to ten hydrogen refueling stations in Shanghai and the Yangtze River Delta region in the next five years. By 2030, it plans to scale up to covering 30 hydrogen refueling stations in the region, serving about 3,000 fuel cell trucks or buses on a daily basis.
The hydrogen refueling stations network, once built, will encourage the adoption of fuel cell vehicles in various sectors including road freight, public transportation, public service and port transportation in Shanghai and the Yangtze River Delta region.
In the future, the two parties will make full use of their advantages to develop high-quality hydrogen infrastructures that are safe and reliable. Marking this cooperation as a starting point, the two sides are expected to include more partners in the joint effort of promoting the development of the hydrogen industry.
(Edited by Yu Huichen with Xinhua Silk Road, yhc0267@163.com)