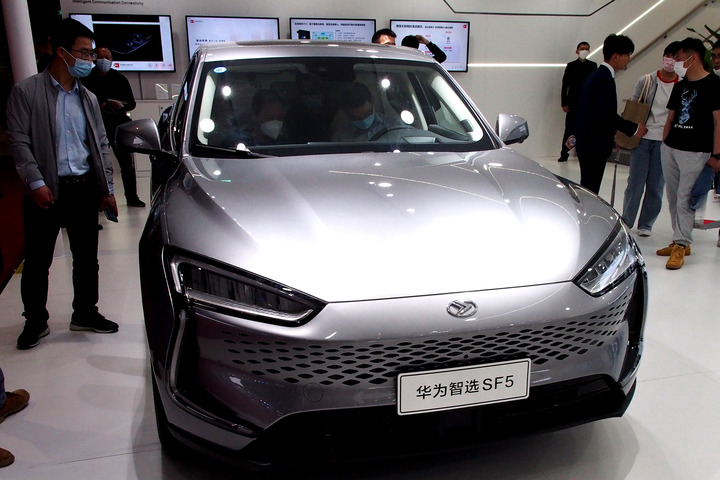 A HUAWEI AI electric vehicle is displayed at the 19th International Automobile Industry Exhibition (Auto Shanghai 2021) in Shanghai, east China, April 28, 2021. (Xinhua/Chen Fei)
BEIJING, Aug. 4 (Xinhua) -- With the surging tide of automobile intelligence approaching, the smart cockpit, as a key element to achieve diversified competition of intelligent vehicles, has become the hottest field of the automobile industry.
In particular, the successive entry of tech giants and the integration empowered by a variety of new technologies have opened more imaginative space for the smart cockpit.
-- Smart cockpit "gets on board" at a quicker pace
On July 27, at the HarmonyOS 3 and Chinese tech giant Huawei's full-scene new product launch conference, Yu Chengdong, executive director, CEO of the consumer business and CEO of the Intelligent Automobile Solution BU, announced that AITO, a brand profoundly empowered by Huawei, will release its first pure electric vehicle, M5 EV, equipped with a HarmonyOS Smart Cockpit in September, which has officially opened the temporary order.
For the new vehicles recently unveiled, the smart cockpit has almost become a common configuration. Many carmakers have taken smart cockpit technologies such as multi-screen interaction, VR, and projection as the selling points of new vehicles.
It is noted that the current mainstream carmakers are focusing on the smart cockpit. Besides the new energy models, many fuel car models have also been equipped with the smart cockpit.
According to analytical data by EqualOcea Intelligence, in 2021, among the newly released passenger car models in China, the smart cockpit penetration rate in the sector has reached 50.6 percent, and the vehicle models with the highest penetration rate are in the price range of 200,000 to 250,000 yuan.
The smart cockpit is rapidly evolving from primary buttons to the advanced digital instrument LCD display, one-chip multi-screen, head-up display (HUD) and streaming media rearview mirror, and from the button-based operation for basic needs to the present electronic and even haptic operation.
However, the development of autonomous driving technology, another important symbol of automobile intelligence, is relatively slow. According to statistics, the penetration rate of passenger car driver assistance systems is about 37 percent in 2021, of which L1 accounts for 21 percent and L2 accounts for only 18 percent.
Ma Jun, a professor of the School of Automotive Studies and the College of Design and Innovation at Tongji University, also the founder of the Human-Vehicle Relationship Laboratory, holds that the skyrocketing popularity of smart cockpit in the past two years was actually driven by investment institutions.
Ma Jun added that the investment institutions have found that it is difficult to break through quickly in autonomous driving technology. However, new technologies, new ecology and new business models around the smart cockpit can move faster. And many proven technologies, such as wearable technology, vital signs detection, millimeter wave radar, digital twin and other technologies that have blossomed in other industries, can be grafted onto the smart cockpit platform, and there is more development potential.
According to IHS, a professional automobile research institute, the global smart cockpit market size is expected to reach 68.1 billion U.S. dollars by 2030, while forecast from ICV Tank shows that China's smart cockpit market will reach 103 billion yuan in 2025.
According to findings by Equal Ocean Intelligence, intelligent experience has become the fourth factor influencing car purchase after quality, performance and design. As consumer demands upgrade from safety, comfort and other physiological needs to emotional, belonging and other psychological needs, the smart cockpit, as an extension of the social relationship between drivers and passengers, will become increasingly important.
-- Empowered by tech giants from different fields
As an important entry point for the traditional automobile industry to evolve into an ecological industry, the smart cockpit can derive various new business models, which has become one of the main reasons why tech giants have jumped into the auto industry in recent years, according to Ma Jun.
Compared with traditional car companies, it's evident that tech giants have technical advantages in these fields. Specifically, the smart cockpit is mainly composed of software, hardware and human-computer interaction technology, among which hardware includes LCD instrument panel, HUD, display and chip, and software includes operating system and middleware, while human-computer interaction technology includes automatic speech recognition, touch recognition as well as other cutting-edge technologies.
Huawei released the HarmonyOS 3 system on July 27 this year. Its Hyper Terminal function supports 12 kinds of smart devices including in-vehicle infotainment (IVI), cell phones, tablets, PCs, watches and smart glass. The connection between cell phone and car allows phone applications to be automatically synchronized to IVI, further enriching the IVIapplication ecology.
HarmonyOS Connect has more than 2,000 partners, involving 170 million devices. In fact, since the launch of AITO M5 equipped with a HarmonyOS Smart Cockpit, HarmonyOS Connect's advantages such as natural continuous dialogue ability, smooth interaction of cockpit center control and efficient intelligent split screen have been highly recognized by the market.
At Apple's Worldwide Developers Conference on June 7, CarPlay, a new Apple in-car system was released. The system not only equipped with the entertainment and navigation functions in the smart IVI, but can realize most electric vehicle functions such as adjusting the interior temperature setting, seat heating, and window and door control.
According to Apple, the updated CarPlay will be able to connect more deeply to the car's core driving system and will communicate with the vehicle's system in real time in a "privacy-friendly way" to display driving information such as speed, fuel level and temperature.
According to industry insiders, CarPlay's role has become more than just an "iPhone extension screen" thereafter, but a smart IVI system that has been pushed down to the vehicle's functional control layer.
Besides Huawei and Apple, another "pursuer" of the smart cockpit is Chinese technology firm and consumer electronics maker Xiaomi. According to media reports, Lei Jun, founder and CEO of Xiaomi will bring Xiaomi's engineering prototype to a public event in August.
It is noted that the Xiaomi business model brings relatively high-end advanced and affordable hardware products to the market, offering customs cost-effective products with enhanced supporting services.
According to industry analysis, in the automobile field, Xiaomi's brand, offline stores, supply chain, engineers and other resources have a certain degree of reusability, which can save the time and cost of building brands, offline retail network stores, and supply chain. Relative to the traditional carmakers struggling to develop the ecology, the eagerness to integrate AI, big data, cloud computing and other high-tech in the automobile sector is itself the strength of technology companies.
For automobile industry competition in the future, the smart cockpit must be a strategic battlefield, said Ma Jun, who added that as the entry point of user ecology, the carmakers closer to customer needs will grasp the preemptive opportunity.
-- Seize the opportunity of industrial revolution
Ma Jun said that the smart cockpit is the starting point for the automotive industry to achieve diversity, and China has the opportunity to gain leadership in the global automobile industry through the smart cockpit sector.
With respect to the smart cockpit industry chain across China, domestic suppliers are quite mature in IVI, LCD, HUD, and application software. However, foreign manufacturers are still dominant in chip and operating system. In recent years, with the participation of technology giants such as Huawei, Baidu and Xiaomi, China's smart cockpit industry chain is undergoing profound changes.
China can be considered in the leading position in the field of global smart cockpit. For example, the Huawei HarmonyOS Smart Cockpit full-scene interaction and wisdom capabilities are taking the lead in both domestic and international markets, according to Wang Yanmin, president of Huawei's Smart Car Solutions BU, adding that the future smart cockpit ecology will not be defined by a single model, but by the entire intelligent car industry, requiring various partners in the industry chain to play their respective innovative strengths, and work together to build it.
IHS reported in the Research on Smart Cockpit Market and Technology Development Trend that the ultimate form of smart cockpit will be an intelligent mobile space. With the breakthrough of human-computer interaction and cockpit sensing technology, the smart cockpit will also enter a new stage of multi-mode interaction, multi-screen integration, active content service and universal connectivity.
Future mobility and car use scenarios will be further expanded. In light of vehicle location and status information, users are provided with a combination of information, entertainment, order, interconnection and other functions, promoting the vehicle really evolving into the "third living space".
Even with the weaknesses in terms of intelligence level, homogenization, and data collection, integration and sharing, the smart cockpit still enjoys a bright future with ultimate potential. Traditional carmakers, emerging forces or tech giants are trying to compete for the definition of intelligent vehicles through smart cockpit-related technology layout.
China Society of Automotive Engineers (CSAE) has recently established the Smart Cockpit Working Group to comprehensively promote the technological progress of smart cockpit, urge the integration and innovative development of smart cockpit, and drive the key technologies research and development and massive industrialization of smart cockpit.
Led by the CSAE Automotive Innovation and Strategy Institute, it organizes and combines cross-industry professional forces to conduct in-depth smart cockpit strategic planning, formulate technical routes and standards, and conduct collaborative innovation, exchange and cooperation, talent cultivation and other work.
As an expert member of the working group, Ma Jun said that the working group aims to help all participants in the automotive industry work together to establish relatively objective industry standards, and help China's automotive industry move forward quickly in the field of smart cockpit. (Edited by Jiang Feifan with Xinhua Silk Road, 346129473@qq.com)