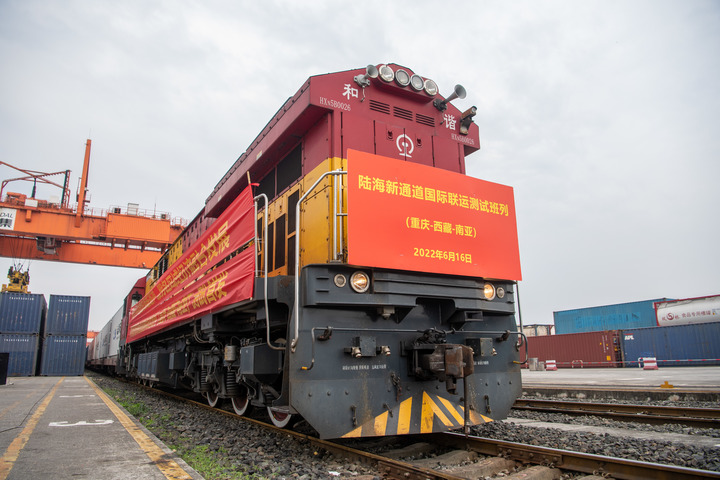 An outbound international freighttrainis about to depart from a station in southwest China's Chongqing, June 16, 2022. (Xinhua/Tang Yi)
BEIJING, June 21 (Xinhua) – A sea-rail intermodal freight train departed from Guoyuan Port, southwest China's Chongqing municipality to the Port of Nansha, Guangzhou city in south China's Guangdong province on June 20, while the returning train of the route departed from the Port of Nansha heading for Chongqing on the same day, marking the official launch of intermodal freight service between the two ports, reported Chinanews.com Monday.
Loading with goods both valuing six million yuan, the freight trains will arrive at destinations after travelling about 1,800 kilometers for three days.

Different from general shipping, the newly launched intermodal freight service is expected to shorten the logistics time for Chongqing to carry out trade exchanges with African and southeast Asian countries and regions to about 10 days, along with a ten percent savings in transportation costs, according to Chongqing Jiaoyun Transportation Holding (Group) Co., Ltd..
The freight train service will connect Chongqing with 149 international shipping routes from Nansha Port, further deepening the coordinated development in the Guangdong-Hong Kong-Macao Greater Bay Area as well as the Chengdu-Chongqing economic circle in the field of logistics.
It is noted that the operation frequency of the trains will be increased to two trains per day to further optimize the railway freight service between Chongqing and Guangzhou. (Edited by Jiang Feifan with Xinhua Silk Road, 346129473@qq.com)