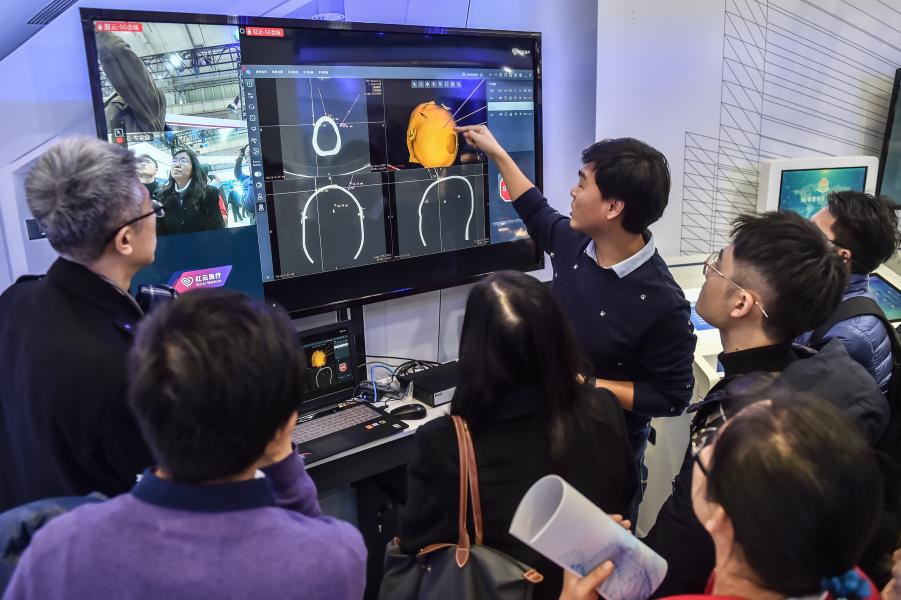 A staff member shows 5G-supported telemedicine technology during the 2019 World 5G Convention in Beijing, capital of China, Nov. 21, 2019. (Xinhua/Peng Ziyang)
BEIJING, April 24 (Xinhua) -- CHISON Medical Technologies Co., Ltd. (CHISON Medical, 688358.SH), a Chinese company focusing on the ultrasound field, announced on April 18 that its overseas revenue registered 345 million yuan in 2021, accounting for 87.38 percent of its total revenue, reported Shanghai Securities News Friday.
Benefiting from the new infrastructure construction in the medical field and the recovery of global demand for ultrasound equipment, as well as the company's own advantages in technology development and product promotion, there is still a large potential for overseas revenue growth of the company in the future, according to CHISON Medical.
Public information shows that CHISON Medical has been developing overseas markets since 2002, and thus boasts strong ability to deal with the risk of market fluctuations. At present, the company's products are exported to more than 100 countries and regions.
In 2021, the company had vigorously expanded the overseas market, building local marketing network in India, Mexico, Italy, and Brazil among others.
In the American market, the company's product sales have grown significantly and it can provide customers with high value-added products.
In Germany, Italy, Spain and other European markets, the company's products successfully entered the local elderly care system and the rehabilitation physiotherapy field.
Its sales in emerging markets such as India, the Philippines, Indonesia, Mexico and Argentina nearly doubled and the acceptance of high-end products in these markets also exceeded expectations.
It is noteworthy that in the second half of 2021, the company started the construction of a global intelligent innovation R&D center with a floor area of about 27,000 square meters, which is expected to be put into use in the first half of 2023 and will provide a solid backing for the company's expansion in overseas markets in the future.
(Edited by Gu Shanshan with Xinhua Silk Road, gushanshan.1987@163.com)