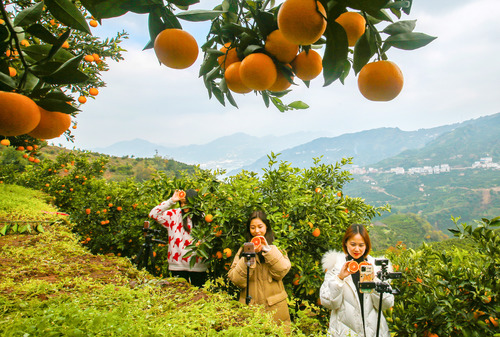 E-commerce livestreamers promote navel oranges at an orange plantation in Leigutai Village of Guojiaba Township in Zigui County, central China's Hubei Province, Dec. 4, 2020. (Photo by Wang Gang/Xinhua)
BEIJING, March 7 (Xinhua) – Central China's Hubei province recently launched a series of activities to boost local consumption in key sectors such as retail and catering, aiming to further inject vitality into the province's economy, reported Hubei Daily Monday.
Some diversified activities, such as the combination of online and offline activities will be launched successively in the Province this year to meet residents' needs, mainly involving four areas including commodity consumption, activities for women and children, new consumption, and rural consumption.
Specifically, related consumption promotion activities such as shopping spree and brand promotion activities for time-honored brands will be held during the year in Hubei, and a live-streaming marketing competition will be held at the same time to further boost the digital transformation of retail enterprises.
According to the Department of Commerce of Hubei Province, this year's consumption promotion activities aim to stabilize the rebound trend in the consumption field and enhance the power of the four traditional consumption sectors including automobiles, home appliances, retail, and catering. (Edited by Jiang Feifan with Xinhua Silk Road, 346129473@qq.com)