BEIJING, Dec. 3 (Xinhua) -- China's first index in the field of olive industry, Xinhua·China(Wudu) High Quality Development Index of Olive industry was released on Friday.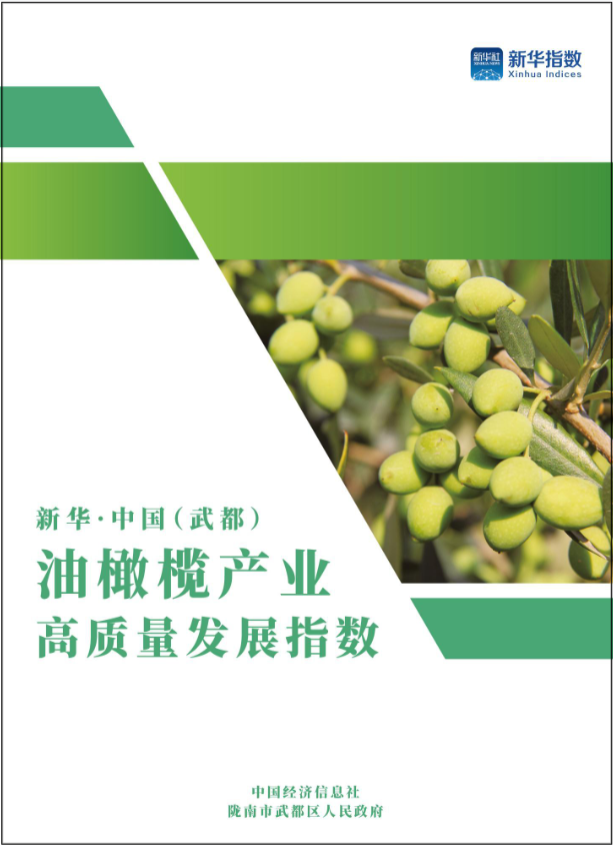 Photo shows front page of Xinhua·China(Wudu) High Quality Development Index of Olive industry
The index is jointly compiled by China Economic Information Service (CEIS) and People's Government of Wudu District, Longnan City of northwest China's Gansu province. The index uses statistical survey data and internet big data to comprehensively evaluate the industrial scale, quality and efficiency, development momentum, brand awareness, credibility, and loyalty of Wudu olive from perspectives of industrial development and brand influence, said Cao Wenzhong, vice president of CEIS.
It is learned that the index comprehensively and objectively reflects the development trend of olive industry in Wudu in recent years. Aiming to continuously enhance the influence of Wudu olive brand, it will provide a reference for the development of the national olive industry and lead Chinese olive to the world.
According to the index result, driven by policy, innovation and talent, Wudu olive industrial quality has been continuously optimized. In 2019 and 2020 , the industrial development increased by 28.2 percent and 9.9 percent respectively over the same period of previous year. The index reached the highest point in 2020 since the base period and will continue to grow in 2021, and it has played a key role in poverty alleviation.
During the monitoring period, Xinhua·China(Wudu) High Quality Development Index of Olive industry showed a rapid increase overall. The annual average value in 2019 increased by 14.6 percent compared with 2018, and in 2020 it increased by 17.6 percent y-o-y, a significant increase for two consecutive years. In the third quarter of 2021, the brand awareness index reached its highest point since the base period.
Focusing on the goal of building a Chinese Olive City, the cultivation of olive in Wudu District is an industry with outstanding comparative advantages, distinctive regional characteristics and huge development potential. The cultivation of olive benefits 45,000 farmers and more than 210,000 people, stated Zhang Liping, head of the People's Government of Wudu District.
(Edited by Bao Nuomin with Xinhua Silk Road, baonuomin@xinhua.org)