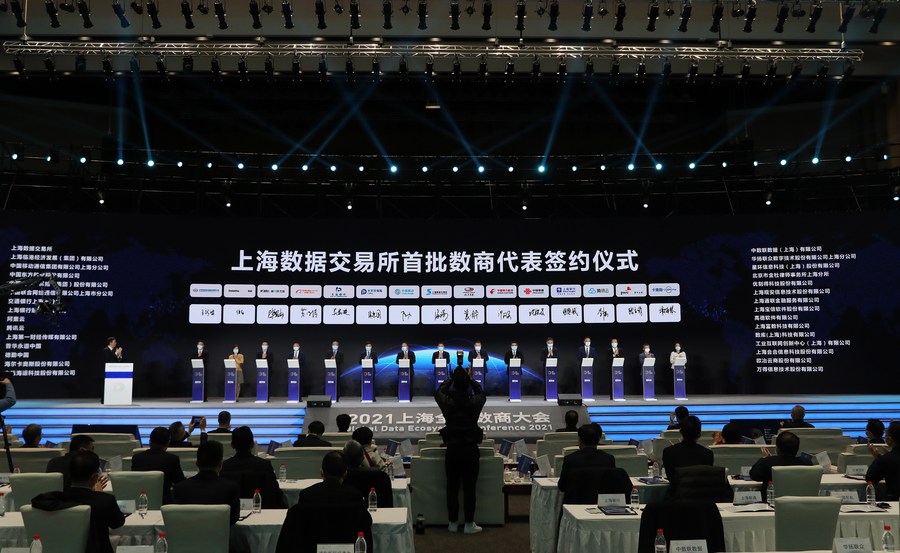 The Shanghai Data Exchange is established and begins trading in Shanghai on Thursday. The photo shows the signing ceremony of the first batch of entities, Nov. 25, 2021. (Xinhua/Fang Zhe)
BEIJING, Nov. 26 (Xinhua) -- East China's Shanghai launched a new bourse for data trade in its Pudong New Area on Thursday, a move to boost its role as an international data hub, reported Shanghai Securities News.
A total of 20 data products were listed on the exchange on the first trading day, covering eight industries including finance, transportation and communication. For example, financial data provider Wind has listed 13 financial databases.
Transactions have already taken place on the first day. For instance, the Industrial and Commercial Bank of China and Shanghai Electric Power inked a deal, which allows the bank to develop corporate financial products and services based on utility data.
The Shanghai Data Exchange (SDE) features the first system of its kind in China, aiming to explore a "Shanghai mode" to set up a good example for other cities in the country.
Shanghai is well-positioned to be an international data hub, as it houses over 1,000 big data enterprises, makes over 5,000 kinds of data accessible to the public, and achieves a peak of nearly 100 million daily business data flow.
The establishment of the SDE is also the city's answer to the guideline released by China's central government on July 15, which clarified that Pudong would set up international data hub and data exchange, promoting establishment of standards and systems regarding data trading, communication and management.
Meanwhile, the city has pushed forwards the rule of laws to support data trading in terms of policy and institutions. The newly-revealed Shanghai Data Regulation focuses on the protection of data rights, opening and application of data resources, and data security, empowering digital economy and socio-economic development.
An ecosystem of data business has taken shape thanks to the preparation of the SDE. A total of 100 companies have signed agreements with the SDE to secure the compliance and security of data transactions. Third-party law firms and accounting firms have also reached agreements with the exchange to ensure transaction safety.
"In three to five years, Shanghai will accelerate building infrastructures of the data exchange, improve allocation capacity of data resources and put in place rules and guidelines concerning transaction, compliance, assessment and registration. Regional cooperation will be highlighted in the Yangtze River delta region to let big data transaction thrive," said Zhang Wei, deputy mayor of Shanghai.
(Edited by Li Shimeng with Xinhua Silk Road, lishimeng@xinhua.org)