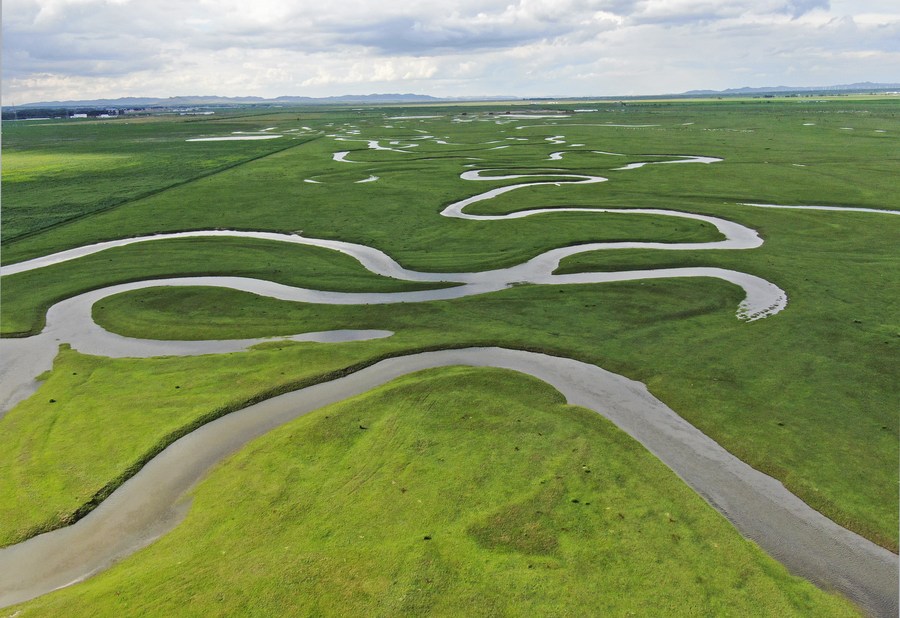 Aerial photo taken on July 17, 2021 shows a view of the grassland in Saibei management district of Zhangjiakou, north China's Hebei Province. (Photo by Wu Diansen/Xinhua)
BEIJING, Sept. 18 (Xinhua) -- Developing circular economy has become an important link for China to achieve the goals of peaking carbon emissions and carbon neutrality, reported China Securities Journal Friday quoting a report.
The report, focusing on carbon emission reduction caused by the trading of second-hand goods in China, was jointly released by international consulting firm Frost & Sullivan, the Institute of Energy, Environment and Economy with Tsinghua University, and China's second-hand trading platform zhuanzhuan.com on Friday.
It points out that as a crucial part of the circular economy, the trading of idle goods can effectively promote the efficient use of recyclable resources in China, and realize carbon emission reduction in the trading and consumption links of idle goods.
According to the business data of zhuanzhuan.com, the report has taken the minimum unit carbon emission value of idle goods category as the baseline carbon emission value, and calculated that each idle mobile phone transaction can achieve carbon emission reduction of about 25 kilograms at least.
Besides, the trade in household appliances can achieve even higher carbon emission reductions. For example, the report says, the trade of an idle household refrigerator can achieve 130 kilograms of carbon emission reduction.
According to the analysis and calculation of the report, from its establishment in 2015 to the end of 2020, zhuanzhuan.com has achieved a cumulative carbon emission reduction of 1.783 million metric tons (tonnes) by promoting the circulation of idle items.
The report notes that online idle goods trading platforms like zhuanzhuan.com can accurately match the demand for idle goods trading and significantly reduce carbon emissions from transport. The "one-stop" idle goods trading service provided by zhuanzhuan.com has fundamentally improved consumers' willingness to trade idle goods with improved transaction quality, and thus avoid unnecessary carbon emissions and energy consumption in traditional offline channels.
(Edited by Gu Shanshan with Xinhua Silk Road, gushanshan.1987@163.com)