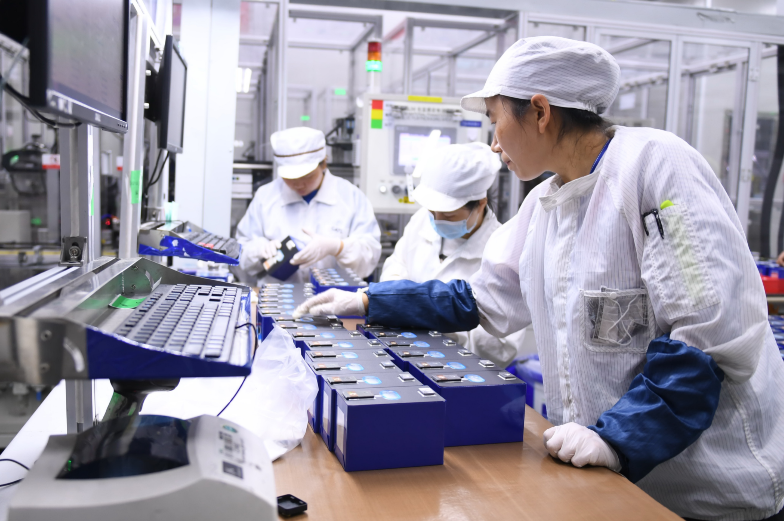 Workers check products at Contemporary Amperex Technology Co., Ltd, a pioneer enterprise in lithium battery manufacturing, in Ningde, southeast China's Fujian Province, Sept. 11, 2019. (Xinhua/Lin Shanchuan)
BEIJING, Aug. 25 (Xinhua) -- The supply-demand of the lithium resources in China has been tightly balanced as the booming new energy vehicle (NEV) market has shored up demand for the lithium batteries, according to the China Securities Journal on Tuesday.
In the January-July period, NEV sales in China totaled nearly 1.48 million units, double the figure from the same period last year, data of the China Association of Automobile Manufacturers (CAAM) showed.
Recently, the price of lithium battery raw materials has continued to rise. Some industry insiders note that the expansion of production capacity by lithium battery manufacturers has in turn promoted the growth of demand for raw materials, leading to the price increases.
On Monday, the price of battery-grade lithium carbonate was 115,430 yuan/tonne, a daily increase of 11,000 yuan/tonne, representing a daily increase of 10.53 percent, and monthly increase of 30.41 percent, according to baiinfo.com, a commodity information provider in China.
According to incomplete statistics from the itdcw.com, a battery industry chain information portal, in the first half of 2021, the domestic battery industry saw the launch of 123 investment projects, with a total investment of 573.45 billion yuan, both significantly exceeding that of the full year of 2020. During the period, construction on a total of 36 projects in the battery industry started, of which 35 projects announced their investment amounts, with a total investment of more than 261.3 billion yuan.
Tianfeng Securities noted that the producers of lithium salt, widely used for lithium battery, are entering a range of high profits. The price of lithium hydroxide is expected to lead the rise after the previous rise in prices of lithium carbonate and lithium concentrate. Given the robust demand from the downstream battery producers and the NEV makers, the price of lithium salt is expected to rise further.
(Edited by Hu Pingchao with Xinhua Silk Road, hupingchao@xinhua.org)