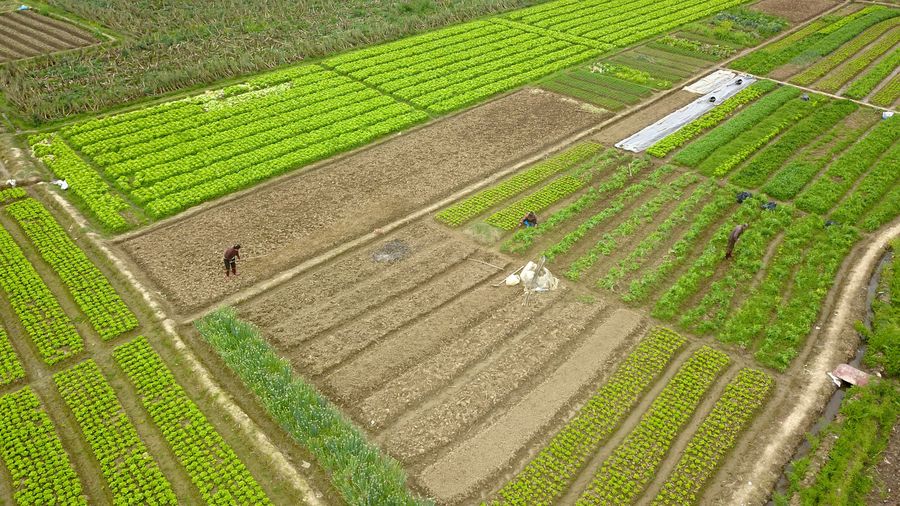 Aerial photo taken on Feb. 19, 2020 shows villagers working in fields at Luoqiao Village of Hezhou, south China's Guangxi Zhuang Autonomous Region. (Photo by Liao Zuping/Xinhua)
BEIJING, Aug. 25 (Xinhua) -- China's Shanghai Clearing House (SHCH) and Agricultural Development Bank of China (ADBC) have deepened their cooperation by forming a direct connection between their respective business systems, reported China Securities Journal on Monday.
It's learned that the ADBC's bond management system and capital trading system have been linked to SHCH's tender of issue system and comprehensive business system, respectively.
This move will make the business process safer, more timely and more accurate, not only empowering the business operation between the two parties, but also setting a good example and offering practical experience for the industry.
The ADBC has been the first member to integrate business data with the SHCH by the means of direct connection since the latter institution provided its members in the market with the access to its tender of issue system.
As the first policy bank to issue bonds with the SHCH on a regular basis, the ADBC has continued to fulfill its bond system by adding the bond index product and standard forward contracts, thanks to the supports from the clearing house.
The bank has also gained recognition from investors at home and abroad for its long-term commitment in agriculture and rural revitalization.
(Edited by Li Shimeng with Xinhua Silk Road, lishimeng@xinhua.org)