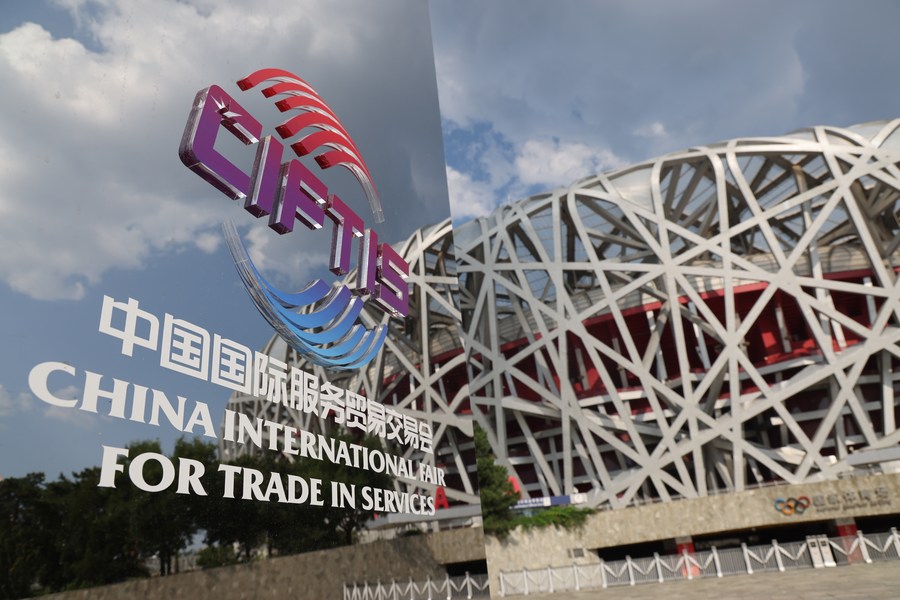 Photo taken on Sept. 2, 2020 shows the outdoor exhibition area of the China International Fair for Trade in Services (CIFTIS) in Beijing, capital of China. (Xinhua/Xing Guangli)
BEIJING, Aug. 23 (Xinhua) -- The development outcomes of China's construction industry will be shown at a separate pavilion covering 4,800 square meters at the China International Fair for Trade in Services (CIFTIS) scheduled to take place from September 2 to 7 in Beijing, reported Beijing Daily Monday.
Within the pavilion, a comprehensive exhibition area, an intelligent equipment experience area and an enterprise exhibition area will be set up.
In the comprehensive exhibition area, exhibitions will be made in three themes of whole-process engineering consultation, engineering construction innovation technology, and engineering construction information technology under the Belt and Road Initiative (BRI).
This area aims to show the world the international leading engineering consulting services and management modes, construction technology and equipment, intelligent equipment, artificial intelligence and innovative and core technologies for the building of intelligent construction sites, intelligent integrated systems, high-performance green building materials, and other outstanding achievements and cases.
The intelligent equipment experience area will present the development process and achievements of scientific and technological innovation in engineering consulting and construction services in a concrete and all-round way, by providing visitors with open and interactive experience of advanced construction equipment, intelligent engineering equipment, smart home and smart park, etc..
The enterprise exhibition area will make full use of the digital technology to facilitate online and offline communications and negotiations among enterprises, and provide them with a platform to show their innovative development and engineering construction service capabilities, serving as a window for the world to know more about Chinese construction and Chinese quality, with the aim to forge the brand of "Built by China".
The section for engineering construction was set up for the first time at the CIFTIS in 2020, driving a contract value of 30.3 billion yuan with an exhibition area of 370 square meters.
(Edited by Gu Shanshan with Xinhua Silk Road, gushanshan.1987@163.com)