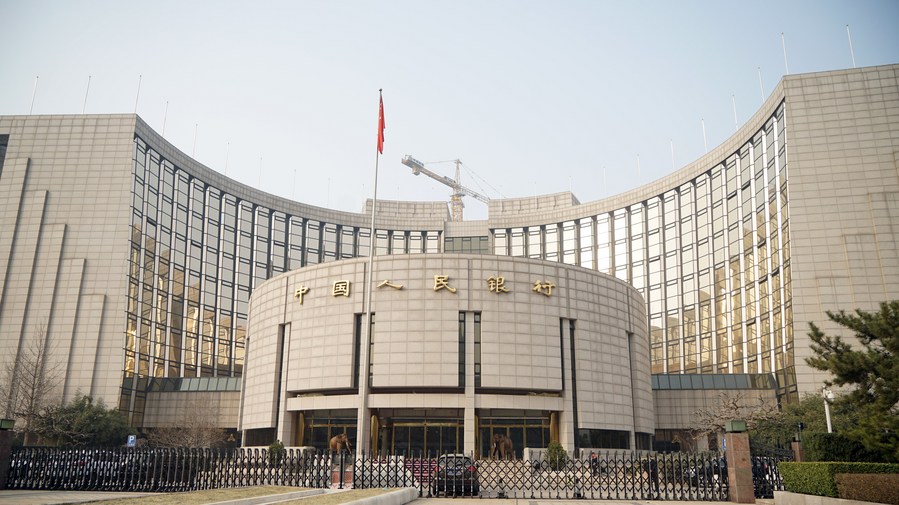 Photo taken on March 13, 2018 shows the headquarters of the People's Bank of China in Beijing, capital of China. (Xinhua/Cai Yang)
BEIJING, Aug. 12 (Xinhua) -- Chinese central bank, the People's Bank of China (PBOC) kicked off pilot cancellation of compulsory rating requirements for non-financial debt financing vehicle issuance on interbank bond market from Wednesday, reported Xinhua-run Xinhua Finance.
PBOC said the move is to improve the autonomy of market entities and press ahead with the market-oriented reform of credit rating industry in China.
By far this year, China has stepped up its efforts to reform the credit rating industry to boost its healthy development.
Previously in late February, China Securities Regulatory Commission (CSRC), the sector watchdog, released two sets of management rules on corporate bond issuance and trading and securities market credit rating business as well, in which compulsory ratings during issuance and registration of corporate bonds publicly were cancelled.
On August 6, Chinese regulators proposed in a joint circular stricter requirement for credit rating firms, requiring them to improve credit rating quality and differentiation, optimize internal control and rating independence, and enhance information disclosure, so as to foster development of the credit rating industry.
After cancellation of compulsory rating requirements, the risk discovery and disclosure capability of credit rating firms will be more strictly tested by the market, posing higher requirements for their rating quality, said an industry insider.
In short term, cancellation of compulsory ratings may erode to some extent businesses of credit rating agencies, but over the long run, demand for high quality rating service is only likely to increase, said Yuan Haixia, vice head of the Research Institute of China Chengxin International Credit Rating Co., Ltd. (CCXI).
Whether investors can accept the rating results of their investment targets will directly influence issuers' selection of rating agencies, thus a reputation based operating mechanism will be gradually formed, good for shaping new and quality-based competition order in credit rating industry in China, Yuan noted. (Edited by Duan Jing with Xinhua Silk Road, duanjing@xinhua.org)