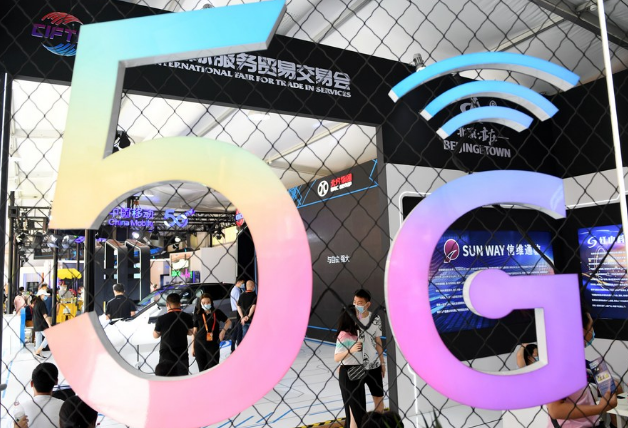 Visitors watch exhibits displayed at the 5G telecommunication service section of the China International Fair for Trade in Services in Beijing, capital of China, on Sept. 5, 2020. (Xinhua/Zhang Chenlin)
BEIJING, July 22 (Xinhua) -- China is set to vigorously promote 5G applications in key areas in the period from 2021 to 2023, according to a circular released by the central authorities led by Ministry of Industry and Information Technology (MIIT), quoted by the Xinhua-run Economic Information Daily on Thursday.
According to the three-year (2021-2023) action plan for promoting 5G applications, the country aims to significantly enhance the level of the 5G development and make breakthroughs in the depth and breadth of 5G applications in the key areas by 2023.
The MIIT proposed that by 2023, 5G applications in the power, mining and other fields should be promoted on a large scale, and the country will enrich the 5G application scenarios in the smart agriculture field.
Since the commercial use of the 5G technology, China has vigorously promoted 5G integration with other industries and its application in multiple fields.
For example, by using Baidu AI cloud, the Quanzhou Water Affair Group, a company based in Quanzhou city in east China's Fujian Province, can realize intelligent management of facilities, which can effectively reduce production risks.
According to Tianyancha.com, an enterprise inquiry platform in China, about 18,000 companies in China are engaged in 5G and industrial Internet related businesses.
A MIIT official said that it is necessary to further optimize the environment and accelerate the promotion of 5G applications in industries so as to empower the digitalization construction. (Edited by Hu Pingchao, Huang Yurong, hupingchao@xinhua.org)