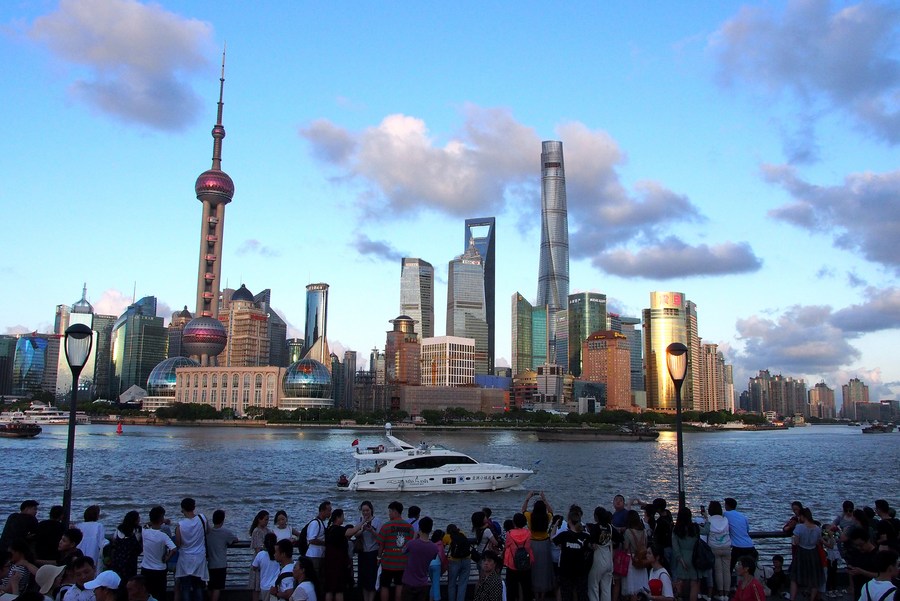 People enjoy the view of Lujiazui at the Bund in east China's Shanghai, Aug. 2, 2019. (Xinhua/Chen Fei)
BEIJING, May 6 (Xinhua) -- China will continue to be an attractive destination for foreign investment, said Margit Molnar, an expert with the Organisation for Economic Co-operation and Development (OECD) recently.
According to her, thanks to the effective control of the COVID-19 as well as wider opening-up of various industries, China has overtaken the United States to be the largest recipient of foreign direct investment (FDI), with its total FDI standing at 212 billion U.S. dollars, up 14 percent year on year, OECD data showed.
Molnar suggested that the quick recovery of China's economy made the country a more practical destination for global investment. Moreover, the country's efforts to open up wider also played an important role, as China lifted the limit of FDI in many industries such as manufacturing, agriculture and building industry, in particular, financial industry.
She added that there is still room for growth in terms of FDI in China. The inflows of foreign investment could help technological upgrading, organizational management and improve efficiency in China's traditional industries and manufacturing industry alike.
(Edited by Li Shimeng with Xinhua Silk Road, lishimeng@xinhua.org)