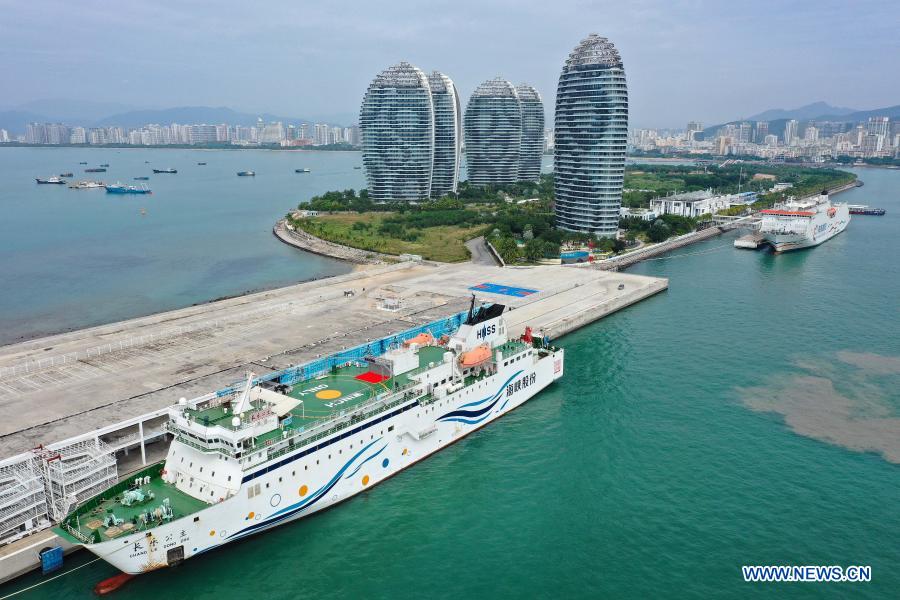 Aerial photo taken on Dec. 8, 2020 shows two cruise ships, the Changle Gongzhu (or Princess Changle, L) and the Nanhai Dream at a port in Sanya, south China's Hainan Province.
BEIJING, May 6 (Xinhua) -- Sanya, a resort city in south China's Hainan Province saw its foreign trade reach 4.85 billion yuan in the first quarter of this year, a year-on-year increase of 248.1 percent, official statistics from Sanya Customs showed recently.
Specifically, its imports value reached 4.76 billion yuan, an increase of 283.6 percent, while its exports value reached 86.336 million yuan, a decrease of 43 percent.
Sanya's main import commodity in the first quarter were consumer goods, with a total value of 3.95 billion yuan and accounting for 82.8 percent of the total value of imported goods during the period.
Main export goods of Sanya were agricultural products with a total value of 63.97 million yuan, down 13.4 percent and accounting for 74.1 percent of Sanya's total exports during the period.
Benefiting from Hainan's duty-free policy, Chinese residents' consumption and the growing demand for new duty-free shops, Sanya imported 4 billion yuan worth of goods in the form of duty-free trade, an increase of 248.9 percent and accounting for 84 percent of the total import value.
(Edited by Bao Nuomin with Xinhua Silk Road, baonuomin@xinhua.org)